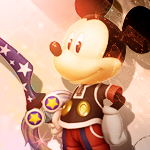 Happy Birthday 0 AP Campaign!
●0 AP Campaign
November 18th is Mickey's birthday and we're celebrating with this limited time 0 AP Campaign!
Happy Birthday, Mickey!
■Campaign Period:
Nov. 16, 2017 12:00 a.m. to Nov. 20, 2017 11:59 p.m. (PT)
Nov. 16, 2017 8:00 to Nov. 21, 2017 7:59 (UTC)
For a limited time, all quests and raid bosses will be playable for no AP cost! Use this opportunity to get caught up with the main story,...