The World Ends With You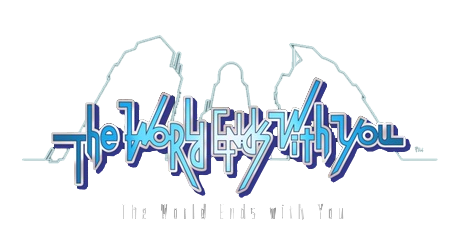 System - Nintendo DS
Japanese Release Date - July 26, 2007
European Release Date - April 18, 2008
North American Release Date - April 22, 2008
Australian Release Date - April 24, 2008
A boy named Neku wakes up in a crowded intersection of Shibuya in the heart of Tokyo – alone and unaware of how he got there. Then, he receives a text message: "Clear this mission...or face erasure." With that, Neku is thrust into a life-or-death game that sends him scrambling down streets paved with one riddle after another.
System - iOS / Android

Worldwide iOS Release Date - August 27 2012
Worldwide Android Release Date - June 26 2014
The World Ends With You: Solo Remix, the mobile version of the critically acclaimed action RPG, brings players back to the streets of Shibuya as Neku with new tracks and new social gameplay elements specifically designed for mobile players.

Activate combat abilities, or "psychs," with simple touch commands like tapping, slashing, and dragging. Control Neku and his partner on the same screen and take the combat up a notch, and boost item drops in battle with the revamped Fusion system. Enjoy the game in full HD. Art and animation across the game has been redrawn for this release, making combat a beautiful experience.

Composer Takeharu Ishimoto's complete soundtrack is included in the game with high-quality audio and full vocals, including remixes and new songs. Exchange profiles with other players, and their avatars will appear in the streets of Shibuya! If friends have Twitter accounts, their avatar will think their latest tweet, and players can receive free items for every trade!

Finish the main story to unlock a bonus chapter, more quests and items to find, new combat challenges, and secret reports that further flesh out the story.


System - Nintendo Switch
Japanese Release Date - September 27 2018
North America / Europe / Australia Release Date - October 12 2018
The Definitive Version of a Modern RPG Classic
Complete the mission...or face erasure. That's all Neku knows after regaining consciousness in the middle of a busy intersection without his memories. Now he and his partner must fight to survive a life-or-death game in this twisted tale with more turns than the urban labyrinth of Tokyo they're trapped in.
This definitive version of Square Enix's RPG classic brings the dark story to life on the Nintendo Switch system along with an extra chapter, exclusive two-player combat, and some killer, new remixed music. In the crowded chaos of Tokyo, players of the Reapers' Game must complete daily missions or face total erasure. Neku might not be enthusiastic about forging relationships, but with his very life on the line, he'll need to learn how to work together with a partner—and fast: they only have seven days.
Gear up with stat-enhancing threads and collect mysterious pins to unleash psychic abilities in battle. Take control of real-time, action-fueled RPG battles using touch controls or Joy-Con controllers. With new features in addition to all the content from the Nintendo DS and mobile versions, the definitive version of this modern classic is finally here.