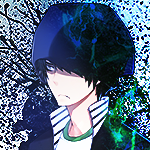 Joined

Jul 21, 2008
Messages

7,142
Awards

4
Age

31
"Welcome to the Velvet room."




The voice seems to draw your attention to your surroundings. Covered completely in plum colored decorations, from the rugs to the seats with the exception of a few, tinted windows, it seems you are in an airplane. Once you take in the lush interior decorating, you notice one large, elegant sofa placed towards the end of the plane. Sitting alone is a short, aged man whose appearance is quite bizarre. He is dressed quite smartly, in a black suit and white gloves, his current position crouched over a small violet colored coffee table. You then notice a smile on his face beneath closed eyes, and for the moment, you are at ease--well, as much at ease as you can be for the moment.




"My..." He comments. "It would seem you have a rather unusual destiny lying before you..." He concludes his sentence with a chuckle as his large eyes open to peer at you over a very long, crooked nose. "Some introductions are due. I am Igor, and I am quite pleased to make your acquaintance."




Your attention is then drawn to a younger looking man, equally smartly dressed in a crisp blue outfit resembling something of a bellhop. His pale face has a more sincere smile, a hat placed neatly on blonde curls accompanied by golden eyes. He is sitting properly, a book on his lap as he looks at you earnestly. He appears more normal, except something in your gut tells you he is anything but.




"Yes, welcome." He follows Igor's lead. "I will be here to accompany you on your travels. You may call me Theo."




"You see this realm exists between mind and matter, separates between dream and reality." As Igor continues, he brings out a deck of cards--Tarot cards, to be exact. He lays them out for you, turning them over one by one. "Generally speaking, only those who have forged a contract are allowed to visit this room, and perhaps in the very near future such a fate will be awaiting you as well." He draws his hands over each one, and they fade away into nothing.




"Let's hope." Theo comments. "Your journey will be quite interesting to see. But until we cross paths again, I must bid your farewell."




Before you can react, the room itself seems to be pulling away from you. You try to walk, yet you are still as everything around you fades to black.
SETTING
​
The setting is Nix, an artificial island created in the northern sea. It is circular in shape, and is bordered by dense forests. Due to it's location, Nix is in a constant state of Winter like weather. Snow is a permanent fixture on the ground, constantly falling during the weeks, and hardly ever coming to a full stop. Situated in the center of the island is a humble town named Ursaniveus. The population here has grown accustomed to the cold weather, and the beauty of winter has become a part of local culture. North of the town is a large frozen lake, which is often used as a skating ring for public and private events. The local school is the pride and joy of Nix, sporting state of the art facilities and a pedigree of outstanding students. This school is where the story will begin, though going through classes is something we will not be doing, as it's pretty much asking for things to bog down.
Recent events in Ursaniveus have been troubling. What was once a carefree town has been put on edge by a steep rise in disappearances. Whenever a blizzard strikes the town, someone ends up missing. At first local authorities figured that people were getting lost in the thick forests around the town, but then the bodies started showing up. One by one, the missing people began to show up under the frozen lake. There were never any signs of the ice on the surface being broken,*and clues as to how they were placed under the ice were nowhere to be found. With the police giving the public no amount of closure, people began to develop ideas of their own. Rumors of supernatural involvement spread through the town, only further perpetuating paranoia.
The disappearances show no signs of stopping, and in fact seem to be increasing in frequency. Something must be done, before the entire island is thrown into disarray.
1. No PP or GM.
2. No sexually explicit stuff, I mean romance is fine and all, but I hear kids come here ya know?
3. Literacy, it is a must.
4. If you're going to be absent for some reason, please tell everyone before you vanish. If someone is MIA for a week without telling anyone, they may be removed from the RP.
5. Don't post unfinished templates, they kinda tick me off. Just say you're working on one and save it in something like Word, not here.
Now I'm not gonna force anyone to do anything, but I was hoping everyone would create a character based on themselves. This character by no means has to BE you, just one
based
upon you.
Name: (Doesn't have to be your real name)
Age: (From 15-18)
Gender: (Doesn't have to be your real gender either)
Personality:
Appearance:
Arcana: (Your arcana will affect which Persona you receive,
Use this
as a guide to choose from, just don't think about it too much, I don't want anyone feeling restricted by it.
Persona: (Your persona is your inner power and personality made manifest)
Persona skills: Make sure they fit your persona, and also keep in mind that skills are meant to evolve over time.
Skills guide
Talents: (Anything useful your character is good at.)
Recent History: (I don't need your character's life story, just explain what they've been doing recently.)
Other: (things such as themes, or miscellaneous information about your character)
Last edited: