Details

Published on June 29, 2016 @ 03:18 pm
Written by Cecily
KINGDOM HEARTS Unchained X holds maintenance for its Version 1.3.0 update from 0:00~10:00 JST on June 30. Famitsu details the new changes to the game!
Update: Zephyr has translated the complete update details from SQEX BRIDGE
Thank you very much for playing KINGDOM HEARTS Unchained χ.

From the maintenance of 6/30 (Thursday), the app received updates.
The main updates of Ver. 1.3.0 are the following:

Corresponding Terminal
Quest terminal display speed has increased
Fixed blurriness appearing on the medals

UI Adjustment
Displays time remaining on the Draw screen
Time elapsed such as "X days ago", "X hours ago" now displays relative time
Can now filter through Lux Level 201~250 and 250+ in the party invitation menu.
Position while scrolling through medal menu and album will be remembered
Modified fast-forward while obtaining Quest rewards from long press to until the last one-tap
If you've pressed the Raid Rescue button that appears at the top of the screen, returning from the Raid list screen with the BACK button has been modified

Additional Functions
Added a "Proud Mode" in the main quest
When a voiced medal has been discharged from the draw, it plays the voice
Voice will also play when tapping the voiced medal to display it

Adjustment of Quests
Your position when a battle ends, it immediately fixes the problem when hitting enemy symbols
Adjustment of buff, debuff icon design

Please continue to enjoy KINGDOM HEARTS Unchained χ!
Proud Mode will appear as an option for main quests! In Proud Mode, rules will be in effect, restricting what Keyblades and medals you can use. This is a tough challenge that is well worth the effort, as new Keyblades such as Sleeping Lion and upgrading materials like Electrum can be obtained as rewards!
*In the screenshot below, the rule restricts the use of any abilities unless the medal has at least 40% Guilt.
High Score event will be held from July 1~7! Defeat as many enemies as possible to achieve the highest score you can! Rewards include Keyblade upgrading materials and this new voiced Maleficent medal!
Solve the mystery of Wonderland 2nd half begins on July 4! Advance through the quests to obtain the exclusive Alice & Cheshire Cat medal. This event ends on July 10.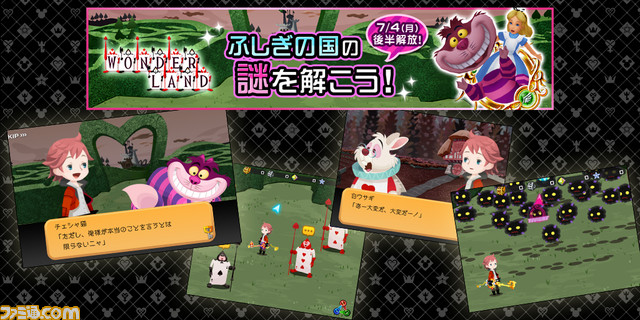 Be sure to follow us on our dedicated KINGDOM HEARTS X[chi] and Unchained X Twitter account for all news and updates!