Details

Published on February 16, 2017 @ 01:30 am
Written by Joey
Support for the Kingdom Hearts television series has gained momentum since Seth Kearsley leaked scripts and colour boards for the series (The Jungle Book would have been an official world in the series), which had a pilot made for Disney in the early 2000's. Thanks to this support, Seth has started a dialogue with workers at Disney about the series.
Seth tweeted on February 15th 2017 "Emails have been exchanged. Dialog has at least been started. Pitching a do-over with the current skill set." This is a follow up to a tweet on February 4th 2017 where he revealed he talked to his former boss about the series, which reached all the way back to Disney.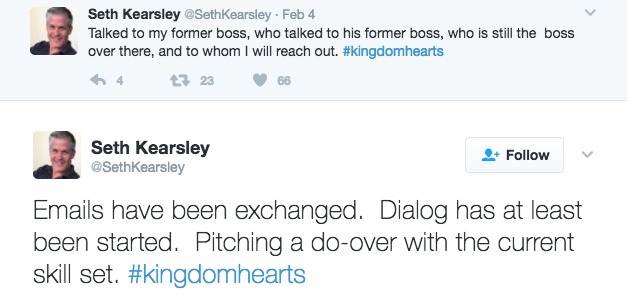 Seth was recently interviewd by Mike Mixtape about the issues with releasing the old Kingdom Hearts television pilot, and revealed why the series never went to air.
Would you watch a Kingdom Hearts television series if a do-over is announced?
Follow Kingdom Hearts Insider on Facebook, Twitter, and Tumblr for the latest updates on Kingdom Hearts Unchained X, Kingdom Hearts 3, Kingdom Hearts HD 2.8 Final Chapter Prologue and all things Kingdom Hearts!