Details

Published on April 16, 2018 @ 04:25 am
Written by Joey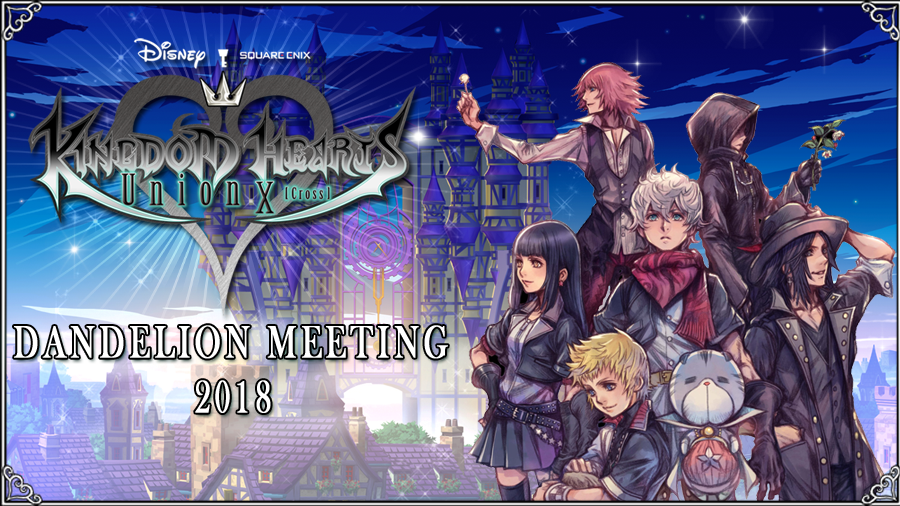 April 15th will mark the first Kingdom Hearts Union χ Fan Event in Anaheim. The event, dubbed the Dandelion Meeting, will have panels with the developers of Kingdom Hearts Union χ and the creator of the franchise, Tetsuya Nomura, and a whole lot more!
SCHEDULE OVERVIEW
Schedule Overview (all times in PDT):
11:30 AM

: Check-in Begins

1:00 PM

: Doors Open / Event Start

2:00 PM:

Opening Remarks

3:00 PM

: KINGDOM HEARTS Union

X

[Cross] Designer Panel

6:00 PM

: KINGDOM HEARTS Union

X

[Cross] Developer Panel with Franchise Director Tetsuya Nomura

8:00 PM

: Event Close
FAQ
Entry & Exit:
Ticket Availability


This event is completely sold out and there will be no extra tickets available for purchase at the door, so only those who already have tickets should come.

Checking In


Check in will begin near the entrance to the House of Blues starting at 11:30 AM. You will need to present the QR code for your ticket to receive a wristband. You may bring a paper print-out of the code, or show the code on a digital device, such as a smartphone.

Entering and Exiting the Venue


Upon checking in, you will receive a wristband that will allow you to exit and re-enter the venue for the duration of the event as long as it is on your wrist. Once you have had a wristband attached, do not take it off unless you are ready to leave the venue and not return. Once a wristband has been removed, it will no longer be valid for re-entry.

Gift bags


Each attendee will receive a bag containing a special assortment of presents to commemorate the Dandelion Meeting! In order to claim your bag, please turn in your wristband at the check-in table when you leave.
Prohibited Items:
Drugs and alcohol, pepper spray and other weapons, outside food and drinks, and other items at management discretion are prohibited.
Animals (excluding certified service animals) are not allowed in the venue.
FAQS (Updated Apr. 9, 2018)
What is the policy for photographs at the event?


We encourage all guests to share the excitement of the event on social media. Photography of the venue and event activities is permitted, but please be mindful of other guests when taking photos.


To respect the privacy of our guests and employees, please refrain from taking photographs or video of anyone without their express permission.


Photography of the stage is not permitted during panel sessions.



Will there be a merchandise booth?


Yes, there will be a dedicated booth selling select KINGDOM HEARTS merchandise.



Will there be an opportunity for fans who can't make it to the event to still take part via a livestream?


Unfortunately, the event will not be livestreamed.



Will there be photo opportunities with the development team?


Unfortunately, there will be no official photo opportunities during the event.



Will there be a signing session with the development team?


Unfortunately, we will not hold any official signing sessions during the event.



Is cosplay allowed? Does the venue have limitations on costume sizes/weapons?


Guests are free to attend in cosplay, but please ensure that any costumes or props will not act as a hindrance to any other guests or disrupt flow of movement. Please be reminded that no sharp objects or weapons are permitted, and you may be asked to check-in any potentially hazardous objects prior to entry.


Please review the House of Blues website for additional rules and restrictions



Where can guests park?


The Garden Walk self-parking structure has two entrances conveniently located on Disney Way and Katella Avenue between Harbor Blvd. and Clementine Street. The venue is easily accessible from any level in the parking garage (including ADA accessibility). For more information, visit https://anaheimgardenwalk.com/parking/



Where can a guest be dropped off at Garden Walk?


Guest drop off is available at the Valet Circle accessible from the Disney Way entrance.



Will there be food and drinks available at the venue?


Water and soft drinks will be available for purchase inside the venue, and a number of restaurants and eateries are within walking distance within the Anaheim Garden Walk plaza.



Is there Wi-Fi at the venue?


We plan to have Wi-Fi available at the venue. Unfortunately, there are no charging stations, so make sure your phones are fully charged before!



What if I have other questions about the venue?


It is expected the new Disney world that was announced one and a half years ago will be officially revealed for Kingdom Hearts Union X. Hands-on gameplay for the new Player Vs. Player mode and the new gameplay mechanics are also expected to be at the event.
COVERAGE
April 9th 2018:
4:26PM PT - Merchandise is being transported to the venue. You will be able to purchase various Kingdom Hearts memorabilia at the event.
April 13th 2018:
2:18PM PT - The Square Enix team shows off their latest pulls during a lunch break.
April 14th 2018:
4:11PM PT - Summoner Glacie shares an image of the "Messages from the Dandelions". If you are attending then you can write your own message to the development team and to Square Enix!
4:25PM PT - Square Enix tweets an image of the exterior of the venue.
8:06PM PT - Square Enix tweets an image from the trailer that will play on screens throughout the event hall.
April 15th 2018:
10:36PM PT - Shinji Hashimoto is at the Dandelion Meeting!
1:00PM PT - The event doors are open!
1:08PM PT - @KH_UX_NA shares images of some gorgeous storybook sets.
1:16PM PT - @Nanazumix shares pictures from inside the event with us!
1:30PM PT - More concept art of the Spider Raid Boss, provided by @gillyrb2007.
1:45PM PT - There's a Draw Battle station at the event where you can practice your pulls!
1:49PM PT - @lennydamelion tries to unlock the Keyhole!
1:55PM PT - @KelvinBelmont shares a picture of the merchandise that is for sale.
2:04PM PT - The signing wall is being put to good use.
2:17PM PT - @Nanazumix shows off their stamp collection. We wonder what the special gift it?
2:21PM PT - We are seated for the opening remarks.
2:25PM PT - Fans battle against fearsome foes on a big screen.
2:27PM PT - The opening remarks at the Dandelion Meeting are just moments away from starting!
2:36PM PT - The event has started! There is a social media ban on what is shown and talked about at the event.
2:47PM PT - Kingdom Hearts 3 scenes were shown off in a short trailer. Some of the mini-games from Kingdom Hearts 3 are available to play at the event.
2:59PM PT - The Art and Design panel is about to start.
4:00PM PT- The Art and Design panel has ended.
4:13PM PT - @gillyrb2007 shares an image of the gift bag featuring Chirithy.
4:49PM PT - @kh_ux_na shares a look at some of the art on display
5:47PM PT - We show off first gameplay of Barnyard Battle from Kingdom Hearts 3.
6:00PM PT - The Developer Panel with Franchise Director Tetsuya Nomura has started!
7:00PM PT - The Developer Panel with Franchise Director Tetsuya Nomura has ended.
7:10PM PT - Guests are starting to leave the venue.
7:47PM PT - @kh_ux_na thanks all attendees for making the Dandelion Meeting a memorable event!
PANEL
The following is information pertaining to the Art and Design panel.
Tatsuya Kando (Art Director) discusses how they make medal artwork for the game. First, he receives a request for a Sephiroth medal then he will try it out in a variety of poses and submit for feedback. If necessary, they will revise. Once it has been approved they wlll add the medal border, effects, and more.
Mayumi Okamoto (NPC and Character Designer) shows off visuals from the Kingdom Hearts Mobile's Avatar Kingdom.
"Although these characters are vey cute, we felt we wanted to experiment with proportions of characters more"
They showed off a progression of Sora in various styles, as well as character designing sheets where they test out poses. From there they add movement and refine the image. They ended with the images of the default male Avatar.

Miki Yamashita (Character & Avatar Designer) shows how they came to design Strelitzia. They show off the same character sheet from D23.
"The info I received from Nomura is: she is a dandelion, based after a flower, color is orange and she is very quiet and reserved"
They then proceeded to show off the New Years avatar designs that were released a few months ago in Japan.
"Sometimes we have one design that we stick to, sometimes we have various types that we propose and narrow down."
Sara Shimokobe (Heartless Designer) first gets instructions from the game designers, e.g. a request for a rare heartless. She thinks to herself "What foes would a rare Heartless look like? I think of things like treasure or rainbows to invite that feeling." They show off the Adventurer Raid Boss during this thought.
They proceed to show off specifications of the Shadow Witch and talk about how they repurpose animations for different types of Heartless. There are design documents shown that are based on the Lady Tremaine Heartless as well as Gilgamesh.
A new Heartless design was shown off. It looks like an old man dressed in purple with a long beard and lightbulbs decked over his shoulders. There is also a Heartless in a wintery dress (Ramuh and Shiva).
Daigo Tsukada (KHUX and KH3 Keyblade and Heartless Designer) showed off various Union X Heartless and Raid Bosses. Because of the stylised cute aesthetics, they tried to give them more cute and comedic behaviour. For the main title, because of the unique illustrative style, you can distinguish who the designer behind that artwork is.
"We strive to create loveable Heartless but if you encounter frustrating Heartless, that's because of the designers who are steeped in Darkness."
Aki Igarashi (Background Designer) uses Maleficent's Castle from the Enchanted Dominion as an example of her work.
"We take the film to make sure where buildings are positioned, paying attention if important scenes will be located there and other narrative elements and use screenshots from the film to recreate the area."

She takes consideration of where the player will go, what perspective there will be, and how to condense the area to being playable.
Megumi Yamamoto (Cutscene Designer) shows examples of the Enchanted Dominion update that recently launched in Japan. They are sometimes unable to recreate the original film entirely due to the addition of the character so sometimes it is a bit challenging. Animation and film references for Prince Phillip and Samson were then shown off.
They wanted to depict nervous tension and sense of speed but because of camera work you couldn't really see it too much. The scene showed off as an example is the escape scene from Enchanted Dominion.
Fan question and answer time has started!
Question: What types of designs did you go through for Starlight? Are there other original designs in the works?

Answer: With Union X, because you are collecting lux, the motif of the star is very important so we based Starlight on that.
Q: Have you considered making medals with CGI effects?
A: The idea of adding animation to different medals was brought up, talked about with the development team. It is not really easy and it is a tough hurdle to overcome.
Q: Why can't girls wear more pants? Why can't boys wear dresses?
A: When we design avatar parts, we think about men and women and we do come across that restriction. It has been noted and designed for gender neutral avatar parts. We can't promise anything but will discuss it with the team.
Q: Was there any point in the game that differs from concepts and what stories are there, if so?
A: With Union X being a mobile game, when we transitioned from PC browser to mobile we changed cards to medals.
Q: Were there any challenges in development?
A: Art director has to wrangle the team and keep everyone in check. We use delicious snacks and goodies to share as motivation. Another thing is when designing medals, because of different characters, e.g. Kingdom Hearts 1, there was so much reference data to sift through which provided to be a challenge. For character medals, with Princes and Princess, if they are really good looking it is tough to make sure they stay in character and are represented correctly. Coming up with new material for new designs is challenging as there are new designs each mother, especially with seasonal events like Christmas where you don't want to repeat designs.
The following is information pertaining to the Developer Panel with Franchise Director Tetsuya Nomura.
Tetsuya Nomura, Tatsuya Kando, and Hironori Okayama are on the panel.
The LCD games are collectively called Classic Kingdom. Concept art of the mini-games are being shown off. Musical Farmer, Barnyard Battle, Giantland, and Carnival Kid are all games you can play in Kingdom Hearts 3, which have been built in Unreal Engine 4. Sora will be adventuring through the game and they'll become available throughout the game.
The mini-games were revealed at this event because you can play Classic Kingdom in Union X! They are unable to give a date for when the games will be live in Union X, but they say it will be live before Kingdom Hearts 3 launches.
Player versus Player mode for Union X was shown off. It features 1 on 1 gameplay, asynchronous battles, three Keyblade setups, infinite HP and you will battle for total damage. This mode will take place in Olympus Coliseum. The gameplay features a 3 turn battle with 3 sets. First to win two out of three times wins.
When choosing your opponents, three will be randomly selected. One will be stronger, another weaker, and the last one will be equal. You will fight your way up the ranks. The battle will immediately begin after choosing the opponents and you can either fight manually or use the auto mode.
This is akin to a data battle as it is not a live battle like in Union Cross and points are collected just like in a High Score Challenge. After one round, Keyblades swap out to the second setup and the battle begins again. Buffs and debuffs will carry over from round to round.
Once you engage in battle, for your set you get to attack first, then the opponent gets to attack first in the second set, then switch again for the third. Player versus Player will launch soon!
Medals will soon be able to be upgraded to seven stars, and their design is extravagant. All medals can be evolved, but it will require specific synthesis materials. No dates were given for when to expect these medals in Global, however the synthesis material to evolve them can be acquired in PVP coliseum.
Today will also have a new event that will give you the chance to have your name appear in Kingdom Hearts 3! However, out of fairness for those who aren't at the event. they can't reveal all of the details at this panel. Information about how the name will appear is a spoiler. It will be woven into the narrative and not just in the credits. It will be a surprise when you play Kingdom Hearts 3. This event begins at 8pm PT.
Question:

What purpose do medals serve in-universe? How do characters view them?
Answer: They probably carry them in their pockets?

Because we're in a fantasy dreamland, we're able to carry the medals.
Q: What new world are you excited about traveling to for Union x?
A: We're not able to discose but maybe a hint? We're planning on incorporating a world never before seen in the series. A character from the mysterious world will appear in Kingdom Hearts 3. They have not been revealed but will be available via a summon.
Q: Why is Guilt Special Attack Bonus when it is a key plot point?
A: Maybe it was meant to be Special Attack Bonus but was shortened to Guilt? That's all I got.
Q: When are you going to have another collaboration event like Final Fantasy Record Keeper?
A: Japan has a lot of collaboration events with other games. It's kinda tiring. Maybe we can collaborate with Twitter or something? (Note: they were joking around with this response).
Q: How did you design the Union leaders?
A: With these Union Leaders, you'll see them tied in with KH3. You'll see hints of their existence. Their stories interwine a bit with KH3, but they will have their own fate and Nomura has already plotted it out. There is meaning behind them, even in their names and even in spelling. We will continue to explore their narrative. We already have a cast of various characters in Union X and we'll still continue introducing new characters as well.
GALLERY