Details

Published on January 11, 2015 @ 05:11 am
Written by Cecily
Although the Inside the Kingdom, with Heart event in Burbank, California concluded well over a month ago, staff member Zephyr has been hard at work trying to recreate what was seen in the exclusive Kingdom Hearts 3 raw footage shown at the event. His first piece depicting the new environment that Sora walked through was so well received, and now we're excited to show you what else he has in store!
Below, you can see a recreation of the unique Keyblade Sora was shown using, as well as its dual gun and cannon transformations. Although the design of the Keyblade has not been seen before, we quickly noticed that it shared several attributes with existing Keyblades - the teeth of the blade with Brightcrest, the color scheme of Oathkeeper, and the shooting star design of Starlight.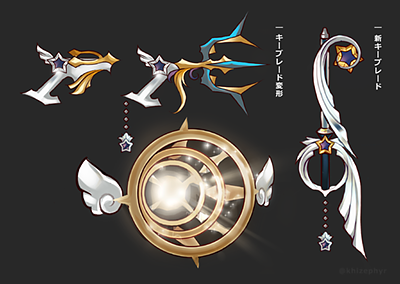 In the footage, Sora was first shown firing with the dual guns before combining them into a cannon, which charged briefly and then quickly launched a powerful burst of light that emitted a multitude of colors as it dissipated.
What do you think of the design? Do you think it could transform even further, and if so, what would you like to see it become? Are there any specific Keyblade designs you'd like to see in Kingdom Hearts 3? Let us know!