Details

Published on October 25, 2018 @ 01:09 am
Written by Joey
Famitsu's latest release has a six page spread on the recent Kingdom Hearts III media release. Included are screenshots and renders from both Olympus and Twilight Town.
As of right now, it appears that Famitsu is providing small recaps of previously known information but our translators are working hard to see if there are any bits of new information for you to enjoy.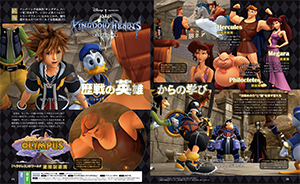 Click on the images above to view them in their full size!
You can view the Olympus screenshots here, the Olympus renders here, and the Twilight Town screenshots and renders here.
Follow Kingdom Hearts Insider on Facebook and Twitter for the latest updates on Kingdom Hearts Union χ [Cross], Kingdom Hearts 3 and all things Kingdom Hearts!