Details

Published on September 21, 2018 @ 08:11 pm
Written by Arielle
The American Society of Composers, Authors and Publishers' song registry website lists a song called "FACE MY FEARS", alternatively known as "OPENING THEME (KINGDOM HEARTS 3)" with writing credits to Utada Hikaru, eight-time Grammy award winning artist Sonny "Skrillex" Moore, and producer Jason "Poo Bear" Boyd.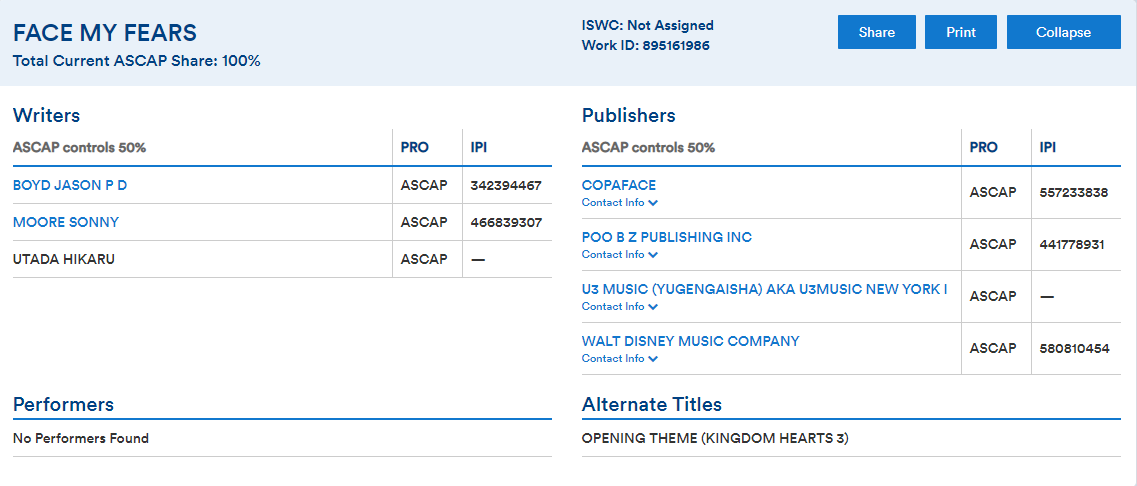 Skrillex is best known for his contributions to the electronic dance music (EDM) genre with multiple Grammy awards under his belt for his various hit records he's released over the years. Back in 2016, he shared an image of Kingdom Hearts on his Instragram showing his love of the series, and has mentioned Kingdom Hearts and Utada Hikaru a few times in interviews and tweets in the past.
Jason Boyd, better known by his stage name Poo Bear, is a producer, vocal producer, singer and songwriter best known for his producing Justin Bieber's albums and co-writing "Caught Up" from Usher's Diamond-certified album Confessions.

"Chikai" and "Don't Think Twice" are listed on the registry as the ending themes to Kingdom Hearts III.
Follow Kingdom Hearts Insider on Facebook and Twitter for the latest updates on Kingdom Hearts Union χ [Cross], Kingdom Hearts 3 and all things Kingdom Hearts!
Source: Reddit