Details

Published on October 10, 2013 @ 11:08 am
Written by Joey
You may remember that series creator Tetsuya Nomura was announced to take part in a series of webvideos for Playstation. These videos are titled "Conversations with Creators"(detailed here), and they are exactly that - a conversation with the creators of games for the Playstation 4. While the video for the Kingdom Hearts III interview hasn't been released yet, bKvEBVAvUq has shared an image of what appears to be an email about the forthcoming video.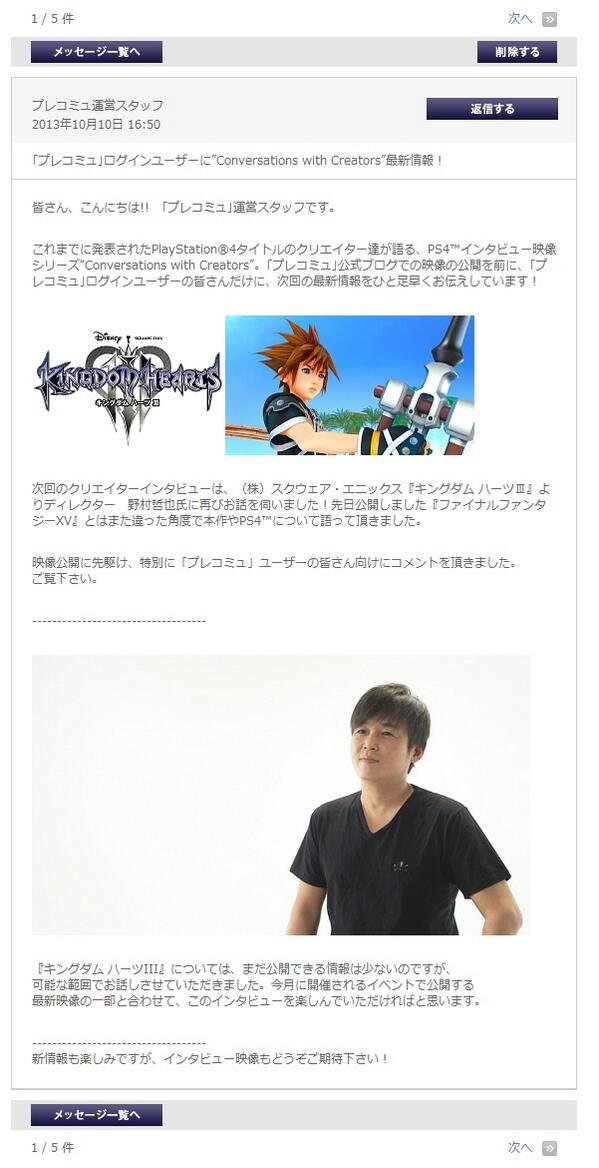 Click to enlarge!
Thanks to Goldpanner via KH13, the email can be translated to the following;
Hello everyone!! Play Community Admin here.

Conversations with Creators is a video series in which we interview the creators of the PlayStation 4 titles that have been revealed so far. Before the video goes public on the Play Community blog, just our Play Community registered members get the next new info early!

The next episode of Conversations with Creators is, once again, Tetsuya Nomura, director of Square Enix's Kingdom Hearts III! He gave us a perspective on the PS4 and on this title that was different yet again from his Final Fantasy XV video that went up the other day.

He gave us a comment especially for the members of Play Community to see before the video releases. Take a look.

I still don't have much information on KHIII that I can release to the public, but I spoke to the extent I was able. Please enjoy the interview, along with part of the new clip that will be released at the event this month.

We hope you enjoyed this new info, please look forward to the interview video!
It appears that there will be a new clip from Kingdom Hearts III that will be at D23 Expo Japan this weekend! What do you think they will show? A story clip? A new world? Gameplay?
Remember to follow KHInsider on Facebook, Twitter and Tumblr for all the latest Kingdom Hearts news!
Source: bKvEBVAvUq