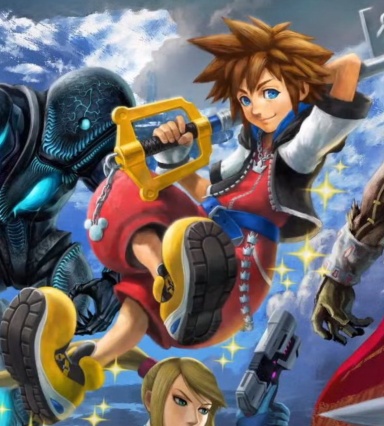 Joined

Nov 8, 2017
Messages

1,260
Awards

8
Location
Name: Kefka Palazzo (He'd be slightly redesigned to look like a Tim Burton character while also retaining his depiction by Yoshitaka Amano)
HP Bars: 20
Affiliation: N/A
World: Keyblade Graveyard
Party Member(s): N/A
Setting: The Final World (Battlegate 15); the sky is yellow
Music:
Dancing Mad (Final Tier)
Phase 1
First Strike: "Peekaboo!" Kefka teleports above Sora at the start of the battle and kicks downward, sending Sora flying straight out at an angle.
Firaga Dance: "Run, run, or you'll be well done!" Kefka leaps around and leaves five trails of fire with each step. "TORCH EVERYTHING!" At the last leap, all the trails converge to where he is as he slams down in the ground in a huge burst of flames.
Trine: "Hocus pocus!" Kefka forms three orbs into a triangle, and they shoot an unblockable laser at Sora that does little damage, but inflicts Blind (which prevents Sora from locking on) and Silence (which prevents Sora from casting magic).
Meteor: "Welcome to my barbecue! Hehehehe!" Kefka casts a destructive rain of meteors all across the Battlefield in random spots.
Hyperdrive: Kefka feigns falling asleep, then "wakes up" just as he curls up and bursts magic with a wide range; contact inflicts the Sap status, which causes Sora to slowly lose HP.
Thundaga Pillar: "You're like a fly to me!" Kefka summons five not-too-long-lasting Thundaga Pillars that all aim for Sora.
Phase 2
; Kefka grows angel and devil wings, and the color of his clothes changes to resemble his god form. He uses the same attacks as Phase 1, along with others.
Blizzagale: "Freeze away!" Kefka shoots 20 feathers from his angel wings that either freeze Sora on contact or summon a pillar of ice from the floor upon contact; all of them can be reflected back at Kefka with Guard.
Bloody Vengeance: "Goody two-shoes!" Kefka flies towards Sora and uses his devil wings as scythes. This attack is performed three times in a row and is unblockable.
Fallen One: "Can't live forever!" Kefka shoots an X with all of his wings that reduces Sora's HP to 1 upon contact; like Bloody Vengeance, it's unblockable.
Havoc Wing: Kefka's wings glow and he flies around the arena at high speed.
Ultima: "Why do people rebuild things they know will be DESTROYED?!" Kefka summons a pillar of light onto Sora that leaves with a fifth of his HP.
God of Magic: "There's a reason why 'oppose' rhymes with 'dispose'!" Kefka calls forth Firaga, Blizzaga and Thundaga and forms into a fire-ice tornado that summons Thundara in random parts of the arena. Kefka will either try to freeze Sora with an icy wind or charge at him with a fiery wind.
Forsaken: "The end draws near…" Kefka glows a dark red aura and flies into the sky as the ground starts shaking and a dark wind starts pulling Sora to the center. "And now, for my last trick, I'LL MAKE YOU DISAPPEAR!!" Kefka flies down to the ground in a dark orb of magic and causes a devastating explosion in nearly the whole arena and takes off nearly all of Sora's health (if not instakills him).
Last edited: