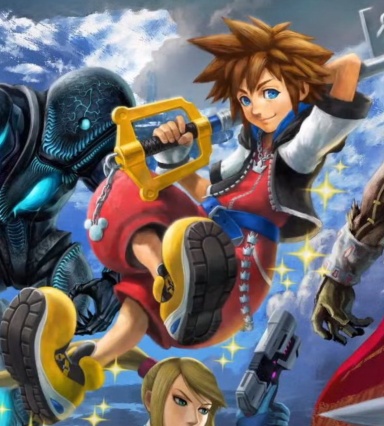 Joined

Nov 8, 2017
Messages

1,265
Awards

8
Location
This DI mod video I came across has a pretty good base idea of a Tamatoa boss fight.
Building off this base: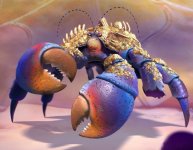 Tamatoa



HP Bars

: 14

Affiliation

: Neutral

World

: [Moana world]

Party Member(s)

: Moana (Phase 1), Donald and Goofy (Phase 2)

Setting

: Lalotai; Donald and Goofy are staying with Maui while Sora and Moana try to get Maui's hook back

Music

:

No Surrender!

(Phase 1),

Titanic Clash

(Phase 2)

Phase 1:

Tamatoa's weak point is his face, but Sora must strike at his claws (which share an Armor gauge) to make him topple over. Alternatively, Sora can Airstep straight to Tamatoa's face, but the crustacean will simply take several steps back to evade when he's not attacking.
Crab Claw: "I'll squish ya!" Tamatoa slams one of his claws on the ground
Claw Swipe: "Get back here!" Tamatoa backhands with his claw(s), and then pinches Sora
Shiny Snatch: "Give me that shiny stick!" Tamatoa attempts to grab Sora, an unblockable attack; if he succeeds, he grabs Sora's Keyblade, shakes Sora off and puts the Keyblade on his shell. Sora must then Airstep to where his Keyblade is and get it back.
Quake: "There's only so far you can run!" Tamatoa slams his claws on the ground and creates a forward shockwave; Sora can Airstep during this to grab Tamatoa's antennae and pull him towarsa the ground, briefly stunning him
Body Slam: "Going somewhere?" Tamatoa jumps up and slams his body on the ground
Phase 2:
Tamatoa is takes notice of Maui and traps Moana in a bone cage, leaving SDG to help them out. The shell suddenly closes, and Tamatoa's color changes. He has all his attacks from before, plus:
Shining Sea: "Try to run from this!" Tamatoa jumps up and slams on the ground, creating a huge shockwave of treasure that can only be blocked
Bivalvian Barrage: Tamatoa constantly slams his claws down, causing giant shell pieces to rain down from the ceiling
Claw Digger: "The power of creation...for a crustacean!" Tamatoa digs through the ground and sends rocks out towards Sora
Crab Dance: "You're not the only one full of surprises!" Tamatoa jumps to where Sora is; he then starts slamming his legs all around and snapping in front of himself with his claws
Bone Cage: Tamatoa traps the party in bone cages that must be broken before Tamatoa unleashes his next attack
Last edited: