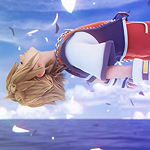 Japanese program Playstation TV recorded more footage of the Kingdom Hearts Birth by Sleep demo in action from the Square Enix party. The footage is shown after the clips about Dissidia Final Fantasy.
The Square Enix Goods display cases were also recorded, showing the King Mickey Play Arts figure plus the figures from the 3rd volume of Formation Arts. Thanks to FF7AC Reunion.
Discuss it in the KH Insider Forums!
MORE 358/2 DAYS SCANS
Higher quality scans of th...