Details

Published on August 12, 2010 @ 11:00 am
Written by Sol
Hey everyone!
Today we have a new Message from The Kingdom concerning mini figures based off the ones seen in Kingdom Hearts Mobile, the Japanese mini-game running in conjunction with Kingdom Hearts: coded. Forum translator Key to Truth has translated the small article for us below.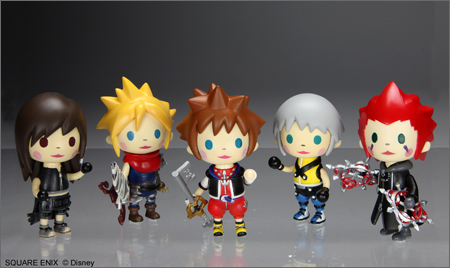 Your favourite KH avatars become mini figures the size of your hand!
Made right from the official avatars and with all of their cuteness. Surely you won't stop looking at them. ♪
Brand name: KINGDOM HEARTS AVATAR TRADING ARTS Mini vol.1
Retail price: 750 Yens (788 tax included)
Release date: 8/21 2010
Amount of items: 5
Purchase them here: Square Enix Shop
Many thanks go to forum member Rexy for the find. Discuss this on our fantastic forums!
©2016 KHInsider. KINGDOM HEARTS official artwork, trailers, characters, merchandise, and music is copyrighted to Square Enix and Disney.
Original material is licensed under a Creative Commons License permitting non-commercial sharing with attribution.
Please read our privacy policy for more information | Legal Information