Details

Published on October 18, 2018 @ 07:35 pm
Written by Arielle
Yesterday V-Jump gave fans their first look at the new models for Hercules, Hades, Megara, and Zeus, and today the latest issue of Weekly Shonen Jump features a bit of information about the stories of Olympus and Twilight Town in Kingdom Hearts III.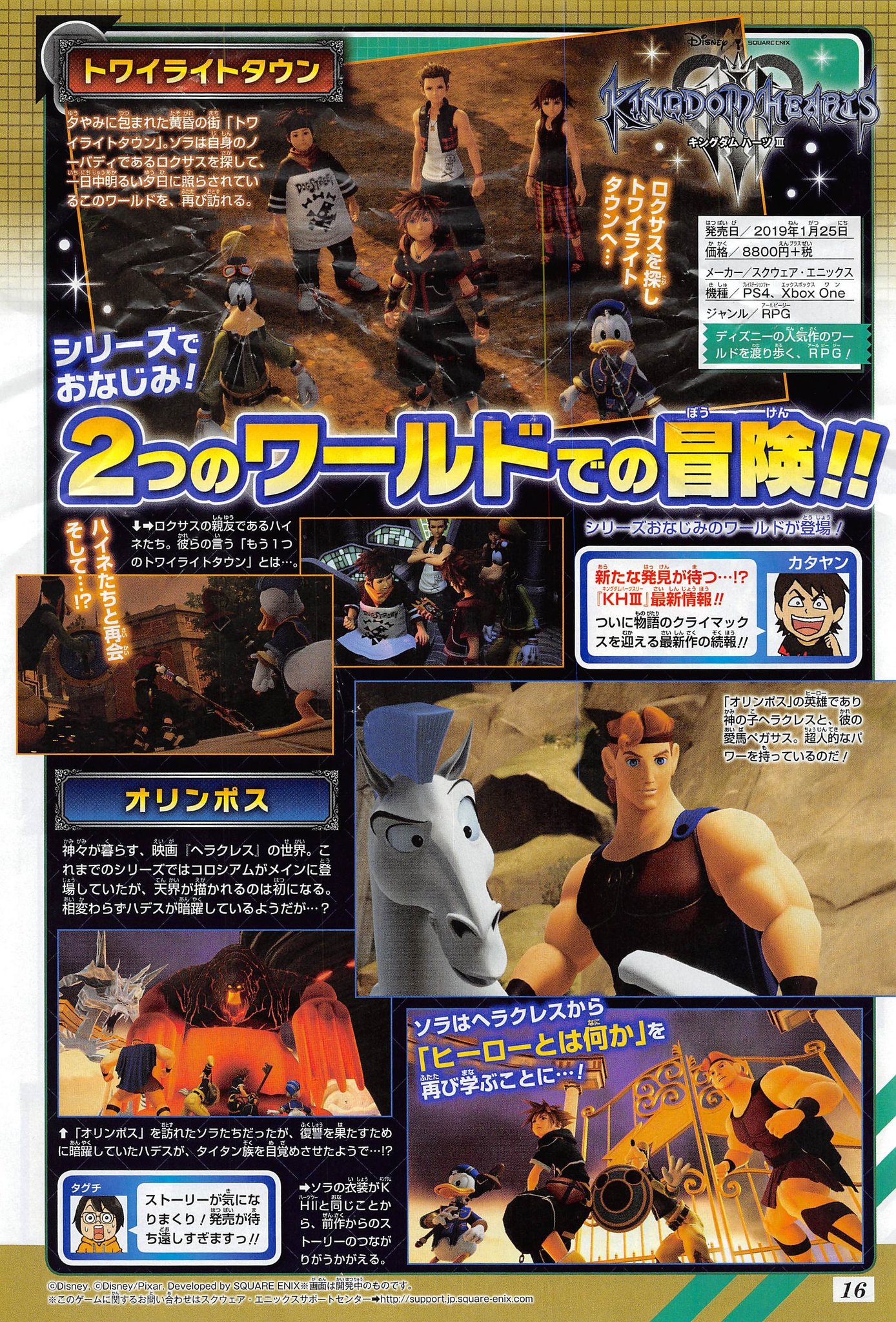 TWILIGHT TOWN

Looking for Roxas in Twilight Town...

Twilight Town, a city bathed in the evening dusk. Sora searches for his Nobody, Roxas, in a world that is forever illuminated by a bright sunset.

A reunion with Hayner and friends, then...what!?

Hayner and his friends are Roxas' best friends. What will they say about there being another Twilight Town?

OLYMPUS

Sora learns again from Hercules what it means to be a hero!

Hercules, a movie based in a world where the gods live. The Coliseum has appeared in the series before, but this is the first time the home of the gods will be shown. As usual, Hades seems to be up to something...but what?

Sora and his friends visit Olympus, and there they discover that Hades has been secretly plotting to get his revenge by awakening the Titans!

Hercules, the hero of Olympus and son of a god, is joined with his beloved friend Pegasus.

Sora's costume is the same from Kingdom Hearts II, connecting this story to the previous game.
Source: YonkouProd via Twitter
Follow Kingdom Hearts Insider on Facebook, and Twitter for the latest updates on Kingdom Hearts Union χ [Cross], Kingdom Hearts 3 and all things Kingdom Hearts!