Details

Published on April 6, 2019 @ 01:31 am
Written by Cecily
USGamer interviewed KINGDOM HEARTS 3 Co-Director Tai Yasue at GDC 2019 in San Francisco, where they discussed developing the game on Unreal Engine, the refusal to cut content, and maintaining that happiness and positivity the series is known for.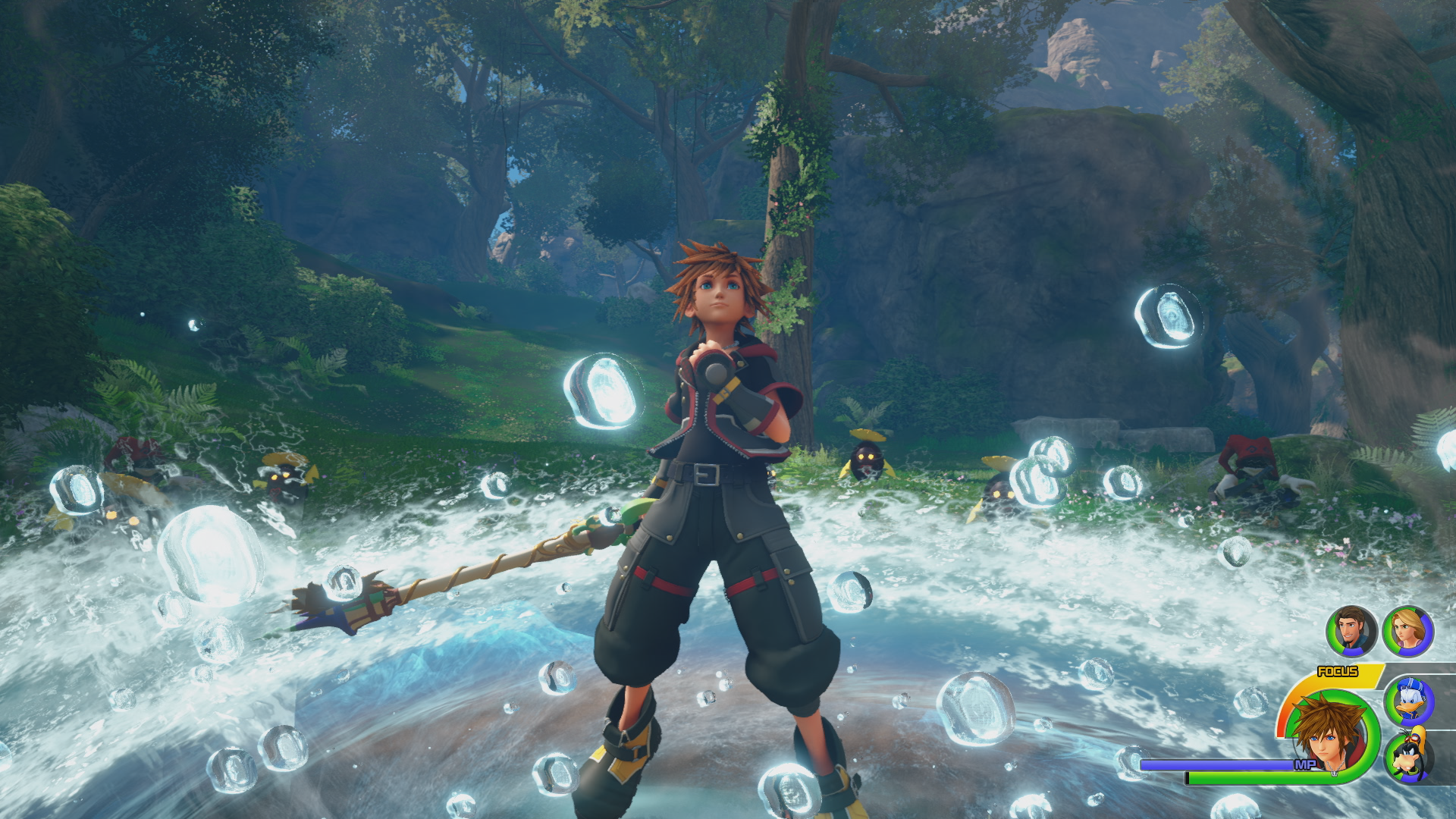 In the early stages of development, they began experimenting with Unreal Engine 3, testing all sorts of design concepts that would eventually make their way into the final game. Such examples include the infamous Demon Tower and the flying mechanic utilized in the Pirates of the Caribbean world. The team compiled footage of these tests and showed it off in an in-house presentation session, where it was well-received. The excitement and energy from that initial work carried over when Kingdom Hearts 3's development shifted to Square Enix's own Luminous Studio engine, and then once more to Unreal Engine 4, the latter of which was a decision made by upper management.
It's no secret that the multiple engine changes caused much difficulty for the Osaka Team, who were unfamiliar with the tools and had to learn everything from the beginning each time. Thankfully, they could count on the team at Epic Games to lend a helping hand.
"We hit a lot of brick walls, but someone was there to help us out," says Yasue. "So I think that's a major thing, connecting to people. It's not just the technology and the engine."
One of the highlights of working on the Kingdom Hearts series is how the team would get inspired from the Disney properties featured in the games, creating something new and unfamiliar that would mesh perfectly with those worlds. Yasue describes them as being like kids, dreaming up numerous possibilities. When they were creating the fan-favorite Ever After Keyblade from the Tangled world, they knew they had to incorporate Rapunzel's tower into its design. It wasn't just a weapon; it needed to feature iconic elements that would properly represent the world. The same goes for designing the final boss for the Frozen world. Following discussions with Disney and the Frozen team, they decided to abandon their original castle design and draw inspiration from the film's Nordic roots to create the Sköll, a flying wolf Heartless with the ability to control the sun.
The aftermath of a major game's release always includes accusations of cut content. Dutiful fans peer over developer interviews and promotional footage with eagle eyes, trying to find any trace of evidence that differ from the final game. However, it seems they won't find much here, as Yasue struggles to think of any major content that didn't make it into Kingdom Hearts 3. Even when faced with the team's own requests to cut content from the game, Yasue refused to budge.
"Everyone was complaining that I should cut more," says Yasue with a boisterous laugh, "but I didn't. I didn't want anyone to cut. There's a lot of discussion about the seven puddings [challenges] for example, they almost got cut. But I wanted that inside the game. I didn't want that added as a DLC. Everyone made the game as we wanted. So yeah, there wasn't a lot of cutting."
One of the biggest surprises of Kingdom Hearts 3 occurred in the Keyblade Graveyard, when Ephemera appears before Sora and sends the Keyblades of past wielders to defeat the Demon Tide. Yasue explains that this event was born from the collaboration between the Kingdom Hearts 3 team and the Union X team. They were aiming to accomplish two things: connect with UX players, and surprise KH3 players and changing their impressions of the game mechanics and design. By taking the Situation Command, one of the first mechanics introduced in the game, and turning it up to 300 by lining up equally as many commands with the names of all those UX players in such a manner, they were able to make a big impact.
Honestly speaking, there's nothing quite like Kingdom Hearts these days. Whether people like it or not, this series knows exactly what it is, and tries it's hardest to be nothing but the very best version of itself. Despite all of the dreary twists and turns, it's still able to exude that pure, undiluted joy we've felt as children, which is expressed especially well in Sora and the various Disney worlds.
I personally really like the happy sort of mood. I think a lot of my coworkers do too. And so we're very happy with that, Sora's positiveness," Yasue tells me. "Another major thing is we're working with Disney obviously, and a lot of their worlds are happy and positive. So I think really, we wanted to take that mood into the game and not make it really dark. There is dark parts to it, but it's very varied, there's a lot of happiness."
Read the full interview on USGamer.