Details

Published on April 24, 2014 @ 11:16 pm
Written by Arielle
If you happen to be in Japan around the Tokyo area, then perhaps you should think about taking a quick trip to Shinjuku and visit ARTNIA. Starting today, The World Ends With You Pin Badge Collection is now on sale at Square Enix's official merchandise store & cafe along with a bunch of new merchandise for the newly released 3DS game Theatrhythm Final Fantasy Curtain Call.
The pins cost 200 Yen ($2 USD) and there are 12 pins in all. At this time it remains unknown if they plan to sell the pin collection online.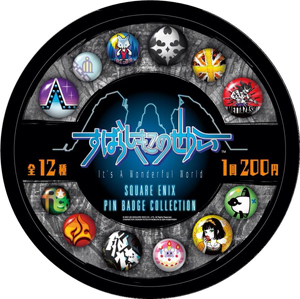 For more updates on The World Ends With You, keep an eye out on our website! Also, follow us on Facebook, Twitter, Tumblr and Google+ for updates on Kingdom Hearts 3 & Kingdom Hearts -HD 2.5 ReMIX-
Source: Square Enix Official Goods via Twitter