Details

Published on May 16, 2014 @ 03:22 pm
Written by Cecily
Square Enix has released multiple themed albums in the past including works from a variety of games such as the X'Mas Collections and the more recent Composers Best - Black Disc-, but none of them have ever included Kingdom Hearts music, that is, until now.
Introducing SQ Swing, a brand new Jazz album of 12 unique tracks, featuring works from Final Fantasy, Chrono Trigger, SaGa, and Kingdom Hearts among several others. These pieces have received new arrangements specially for the occasion, and will be performed by talented artists including bohemianvoodoo, Drakskip and Whistle Taro.
SQ Swing will be released on May 28th, 2014 for 2,500 yen plus tax (roughly $24.62 USD).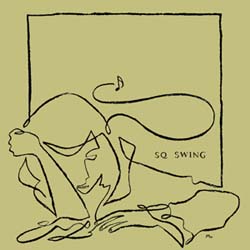 The complete track list is available below:
Memory of 16bit Medley:Mission Clear~Rebel Army~The Teacher's Eulogy~Frog's Theme ~Farewell Song~Main Theme Composer:Noriko Matsueda、Toshiaki Sakoda、Yasunori Mitsuda、Hiroki Kikuta、Nobuo Uematsu/Arranger/Orchestra:Taro Kuchibue

SEIKEN DENSETSU 2 [The Child of the Fairy Tribe]
Composer: Hiroki Kikuta / Arrangement-Performer: Drakskip
KINGDOM HEARTS II [Organization XIII~The 13th Struggle~Fragments of Sorrow~Dearly Beloved]
Composer: Yoko Shimomura / Arrangement: Hidehiro Kawai / Performer: fox capture plan
FINAL FANTASY VII [Johnny C. Bad]
Composer: Nobuo Uematsu / Arrangement-Performer: KING COLUMBIA
FINAL FANTASY IV [Edward's Harp~The Land of Summons]
Composer: Nobuo Uematsu / Arrangement-Performer: RF
CHRONO TRIGGER [Chrono Trigger~Yearnings of the Wind~Robo's Theme]
Composer: Yasunori Mitsuda / Arrangement: Iori Kimura / Performer: bohemianvoodoo
FINAL FANTASY VI [Shadow's Theme~Cyan's Theme~Edgar & Sabin's Theme]
Composer: Nobuo Uematsu / Arrangement-Performer: RF
SAGA FRONTIER [Fight! Alkaiser]
Composer: Kenji Ito / Arrangement-Performer: RF
LIVE A LIVE [MEGALOMANIA]
Composer: Yoko Shimomura / Arrangement-Performer: RF
CHRONO TRIGGER [Corridors of Time ~ Sara's Theme]
Composer: Yasunori Mitsuda / Arrangement-Performer: Drakskip
FINAL FANTASY IX [Melodies of Life]
Lyrics: Shiomi / Music: Nobuo Uematsu / Arrangement: Hirado Yusuke / Performer: Miyuki Hatakeyama meets Yusuke Hirado Trio
Xenogears [Singing Of The Gentle Wind]
Composer: Yasunori Mitsuda / Arranger-Orchestra: Taro Kuchibue
Source: SQ Swing official site