Details

Published on February 12, 2014 @ 02:09 pm
Written by Arielle
Yoko Shimomura's 25th anniversary album, memória!, will be out next month to celebrate all of her beautiful & timeless compositions for games produced by Square Enix. The official music page for memória! updated today, giving fans a preview of the orchestrated version of "Vector to the Heavens", one of Shimomura's most memorable tracks from Kingdom Hearts 358/2 Days. You can listen to the preview below:
Along with "Vector to the Heavens", the 25th anniversary album will include songs from Super Mario RPG, Live A Live, the Mana series, and more. Here is the list of songs announced so far:
"Vector to the Heavens" - Kingdom Hearts
"Beware the Forest's Mushrooms" - Super Mario RPG: Legend of Seven Stars
"Song of MANA - Orchestral Version" - Seiken Densetsu: Legend of Mana
"Ring of Revolving Fate" - Seiken Densetsu: Heroes of Mana
"Elegie" - Front Mission
"MEGALOMANIA" - Live A Live
The website also updated with the cover of memória!, which can be viewed below: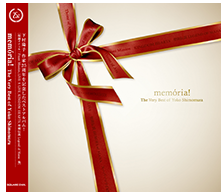 memória! will release March 26th 2014 for 3150 Yen ($30 USD) and you can pre-order the album right now from the Square Enix eStore, Amazon Japan, and the Sony Music Shop. Amazon Japan ships internationally.
For all of the latest news on the music of Kingdom Hearts, Kingdom Hearts HD 2.5 ReMIX, and Kingdom Hearts 3, make sure to follow us on Facebook, Twitter, Tumblr and Google+!