Details

Published on May 18, 2018 @ 01:00 pm
Written by Joey
Square Enix have revealed that Ralph from Wreck-it-Ralph will be a summon in Kingdom Hearts III!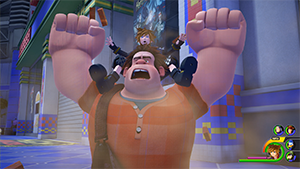 Coming out of a Fix-It Felix Jr. screen, Ralph joins Sora on his quest to wreck everything in sight. In April 2018, Nomura revealed that the new world coming to Union X will be teased in the form of a Summon that we would see soon in Kingdom Hearts III. Considering the Classic Kingdom mini-games that will be coming to Union X before Kingdom Hearts III launches, it makes sense that the mini-games could tie into a world based on Video Games.
Wreck-it-Ralph is a 2012 Disney film that revolved around Ralph (John C. Reilly) on his journey to go from video game villain to a hero. Feeling under-appreciated in his own game, Fix-It Felix, Ralph jumps through a variety of games on his search for a gold medal to prove that he is more than just a villain. After arriving in a game called Sugar Rush, he makes friends with Vanellope Von Schweetz (Sarah Silverman) and works with the young girl in order to join a race in an attempt to get a gold medal. The film also featured the voice talents of Jack McBrayer and Jane Lynch.
A sequel to Wreck-it-Ralph will be arriving in November 2018. Ralph Breaks the Internet: Wreck-It Ralph 2 will have Sugar Rush on the brink of being unplugged because it desperately needing a replacement part. Ralph and Vanellope will journey into the internet in search of that replacement part, and will encounter new customs, worlds, and characters.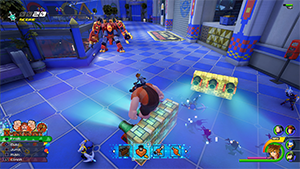 Like Kingdom Hearts, Ralph and Vanellope will encounter the Disney Princesses in Ralph Breaks the Internet: Wreck-It Ralph 2. Each Princess will have their original voice actress reprise their role, excluding Snow White, Cinderelle, and Aurora who will require new voice actresses.
Follow Kingdom Hearts Insider on Facebook, Twitter, and Tumblr for the latest updates on Kingdom Hearts Union X[cross], Kingdom Hearts III, and all things related to Kingdom Hearts!