Details

Published on October 24, 2017 @ 06:18 pm
Written by Arielle
European video game publisher Koch Media and Amazon Germany have updated with listings for a KINGDOM HEARTS PS4 Collection for release on November 24, 2017.The pages describe this collection as a "Mega XL Bundle" and will include KINGDOM HEARTS HD 1.5 + 2.5 ReMIX and KINGDOM HEARTS HD 2.8 Final Chapter Prologue together in one convenient package for 69,99€.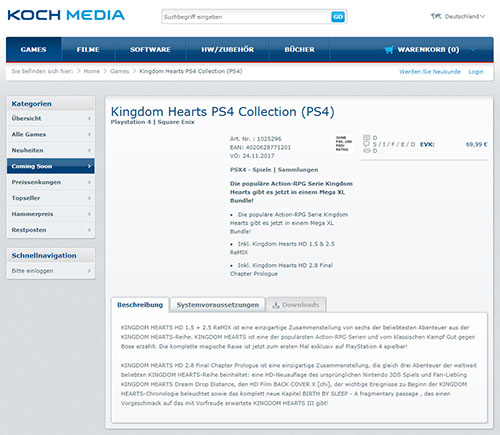 Remember to follow Kingdom Hearts Insider on Facebook, Twitter, and Tumblr for the latest updates on Kingdom Hearts Union χ [Cross], Kingdom Hearts 3 and all things Kingdom Hearts!
Thanks to Tony at JPgames.de for the tip!