Details

Published on December 12, 2018 @ 07:12 pm
Written by Cecily
KINGDOM HEARTS 3 will be releasing on January 29th, 2019, and by now, most people will have already placed their preorders at their retailer of choice. Many of these retailers are offering a different preorder bonus, such as an exclusive Keyblade skin, light-up yoyos and posters.
Today, Square Enix announced that those who preorder Kingdom Hearts 3 at Walmart in the U.S. and Canada will receive a free set of collectible art cards featuring Sora, Donald and Goofy with characters from Toy Story, Frozen and Pirates of the Caribbean.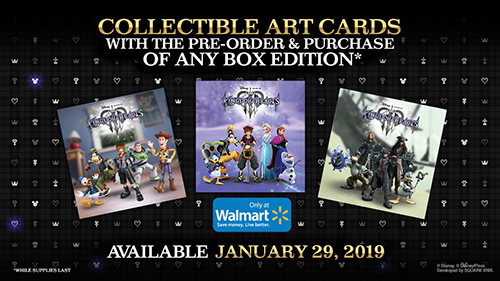 See below for a full list of all the preorder bonuses being offered:
PSN: Kingdom Hearts 3 Impossible Odds Dynamic Theme, Midnight Blue Keyblade Skin
Microsoft Store: Phantom Green Keyblade Skin
[US / CA] Amazon: Dawn Till Dusk Keyblade Skin
[AUS] EB Games: Light-up Heartless Keychain
[SE / NO] Gamestop: Monsters Inc. Replica Yo-Yo [Design #1]
[UK] GAME: Monsters Inc. Light-up Yo-Yo [Design #2]
[FR] Micromania: Badget Set (Deluxe only), Light-up Yo-Yo [Design #2] (Standard)
[JP] 7-Eleven: Dawn Till Dusk Keyblade Skin + KINGDOM HEARTS 3 Rubber Strap <Sora>
[JP] Amazon: Original PS4 theme
[JP]Square Enix e-STORE: Original Steelbook Case
Follow Kingdom Hearts Insider on Facebook and Twitter for the latest updates on The World Ends With You, Kingdom Hearts Union χ [Cross], Kingdom Hearts 3 and all things Kingdom Hearts!