Details

Published on October 13, 2017 @ 04:01 pm
Written by Cecily
Square Enix's cafes are hosting a KINGDOM HEARTS collaboration campaign to commemorate the series' 15th anniversary! To kick things off, they held a preview event last night at their new cafe in Osaka, inviting 40 lucky attendees to meet the development staff and try the themed menu and purchase exclusive merchandise before the cafe's formal opening.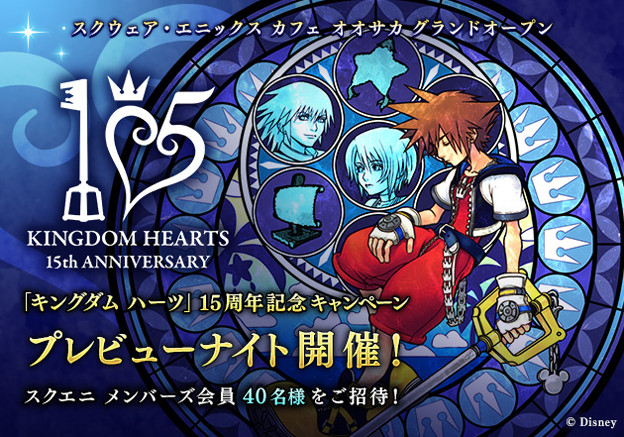 Series Director Tetsuya Nomura was also in attendance and spoke briefly about the series, revealing a bit of new information.Thanks to Zephyr, we have translations of them, based on impressions from attendees:
Sora's height is 160cm

As for Xehanort, they can't give an exact height but perhaps more than 180cm

They have decided on heights for the other characters, but are unsure if they want to announce it

Yamasaki (KH3 character model lead): Kairi and Riku's new clothes are pretty similar. There's a hood. However changes are still made daily. (

Note: All costume designs have already been finished)
Yamasaki: Young Xehanort and Xemnas are still under development since their reveal in recent trailers, so adjustments are being made to their faces. Because changes have been made since KH2, adjustments such as lengthening the jaw is difficult.

Initial art was only shown here during the short presentation

Union Cross's Ven is the real Ven

When asked if Lauriam is Marluxia, Nomura merely answers "Lauriam is Lauriam"

The story of Union Cross will not be completed in KH3 (not everything will be addressed in KH3)

Like other Disney characters, you can consider Sora's birthday to be the day of his screen debut (March 28)

When asked if any character other than Sora will be playable, Nomura comments that such a world exists where this possible, but he can't currently say who it'll be
There is demand for figurines of supporting characters and Organization XIII. Nomura will think about it

Although it has been confirmed that D23 was the place to present new information for KH3, it is undecided where the next one will be revealed

There are no plans to release a Nomura art collection at the moment

There are no plans for selling a promotional trailer collection for the time being
The KH15 anniversary celebration campaign will be held from October 14~December 14 at ARTNIA, and from October 14~November 10 at the Square Enix Cafe and Cafe Osaka.