Details

Published on April 9, 2021 @ 07:52 am
Written by Arielle
The official boxart for NEO: The World Ends With You has been revealed which features Rindo, Fret, Nagi, Shoka, Sho Minamimoto, and Neku Sakuraba.
Square Enix eStore Japan will receive a special "The World Ends with Bag" edition of NEO: The World Ends With You which comes with a mini soundtrack consisting of 15-specially selected songs from the game, an artbook with the cover illustrated by Gen Kobayashi, a badge and pin set, a Mr. Mew mini-pouch, and a special record bag.
Square Enix eStore Japan preorders will also receive the Survival Rate kit which will gift special in-game items to help increase your survival rate when playing NEO: The World Ends With You. It includes the "Mutation" badge which recovers the team's HP while holding the command button, the Koumokuten equippable top that increases HP, and "Twister -NEO MIX-" which will play in the menu screens when selected.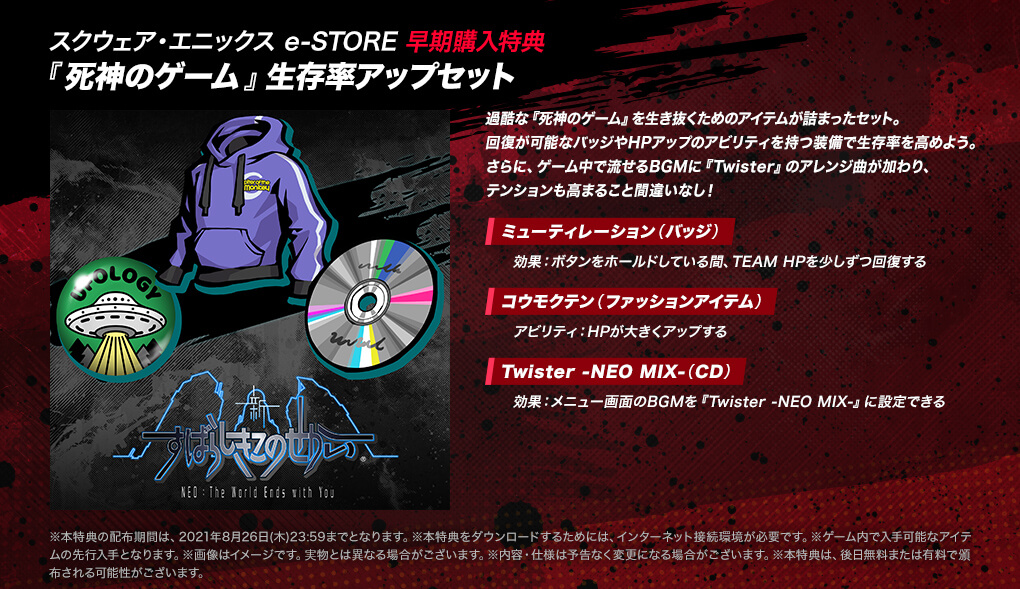 eStore PlayStation 4 | eStore Nintendo Switch
Follow Kingdom Hearts Insider on Facebook and Twitter for the latest updates on Kingdom Hearts Union χ [Cross], Kingdom Hearts Dark Road, Kingdom Hearts III, Kingdom Hearts Melody of Memory, and all things Kingdom Hearts and The World Ends With You!