Details

Published on July 2, 2018 @ 06:05 pm
Written by Cecily
KINGDOM HEARTS 3 had a huge presence last month at E3 2018, showing off 4 trailers in less than a week and giving attendees the opportunity to play a demo of the game. Naturally, it won numerous awards and nominations from the press.
Particularly noteworthy is its win in the Best RPG category in the the Game Critics Awards. The Game Critics Awards, organized by Geoff Keighley, have presented "Best of E3" Awards for the past 20 years. Judging is performed by the Game Critics, an independent group of 50 media and influencer outlets covering the videogame industry, made up of representatives from around the world. Games that are eligible for a nomination must be demonstrated in a hands-on playable form at the expo.
See below for the full list of awards and nominations! In total, Kingdom Hearts 3 won 16 awards out of 29 nominations.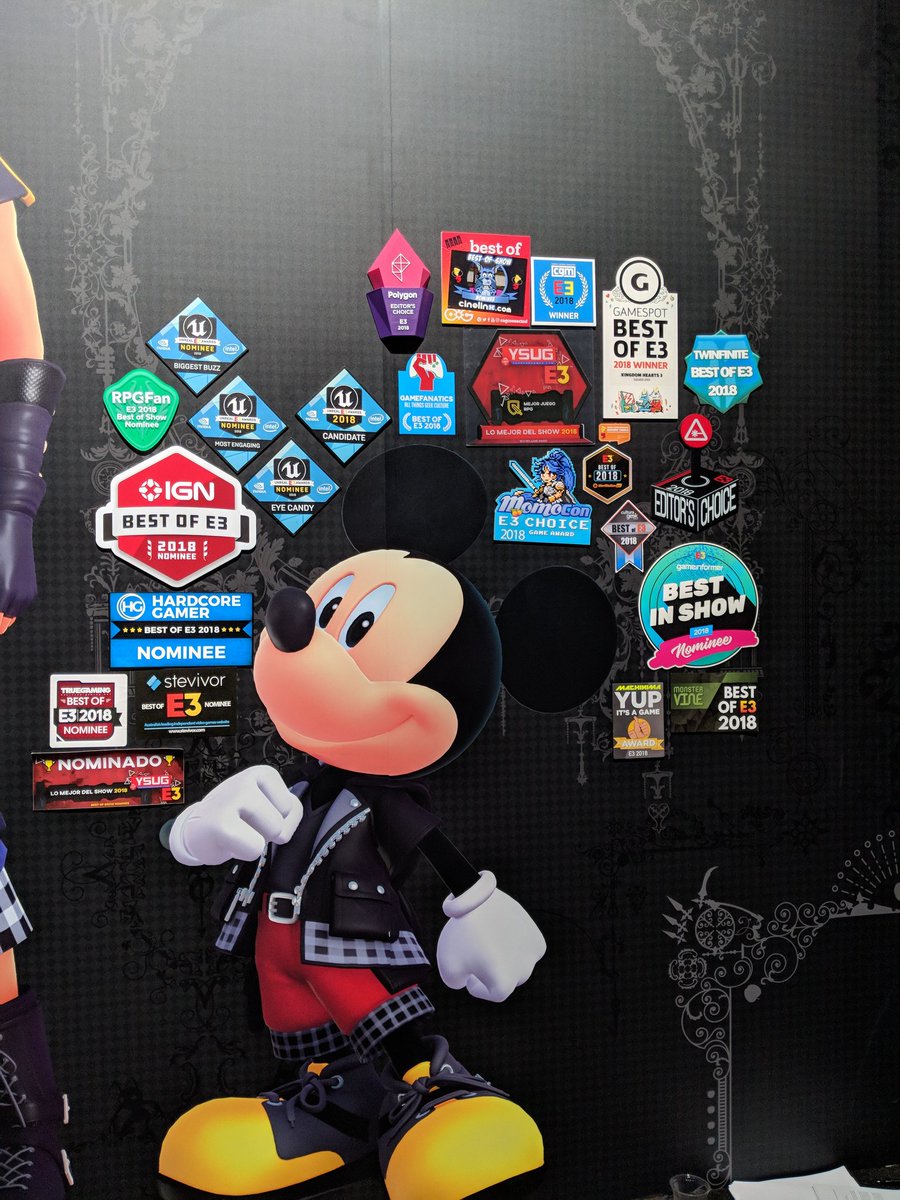 Image Credit: @Churroz
Winners
E3 Game Critics Award: Best RPG
Unreal E3 Awards: Eye Candy, Biggest Buzz
Gamespot: Best of E3
tom's guide: Best RPG
Yo Soy Un Gamer: Best RPG
Momocon: E3 2018 Choice
COGconnected: Best RPG
TheGameFanatics: Best of E3
Twinfinite: Best of E3
Polygon: Editor's Choice
Monstervine: Best of E3
Machinima: Yup It's a Game
CGMagazine: Best of Show
Nerdist: E3 Editor's Choice
Royal Flush Magazine: Editor's Choice
Nominations
Unreal E3 Awards: Most Engaging
IGN: Game of the Show, Best PS4 Game, Best Xbox Game
Hardcore Gamer: Best of E3
Cinelinx: Best of Show
RPGFan: Best of Show
Stevivor: Best of E3
Truegaming: Best of E3
Yo Soy Un Gamer: Best of Show
Game Informer: Best in Show
Meristation MX: Best of 2018
Cultura Geek: Best of E3