Details

Published on October 28, 2012 @ 08:01 pm
Written by Cecily
With Halloween literally just around the corner, it's about time to really start getting into the holiday spirit, and you know what that means! It's time to start shopping and making gifts for your friends, family or even complete strangers! This year, GameStop has decided to leap into the action headfirst by opening up 80 GameStop Kids retailers across the United States!
For those of you unaware, GameStop Kids are child-friendly stores stocked to the brim with video game-themed toys and collectibles, as well as games themselves, all in one convenient location for your holiday needs! And of course, such a store just wouldn't be complete without KINGDOM HEARTS merchandise!
The Northwest Company LLC will be supplying GameStop Kids with a lovely KINGDOM HEARTS throw, featuring the all-familiar artwork of KINGDOM HEARTS II's Sora in his Final Form, surrounded by Shadow Heartless with the moon looming over in the background. This throw is available for $24.99 USD, and you can view it below! You can purchase it both in stores and online.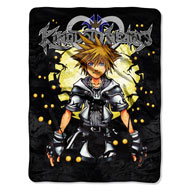 Please check the following pages for more information:
GameStop Kids Locations and General Information: [LINK]
Full List of Merchandise Available at GameStop Kids: [LINK]
This news is brought to you by jeels!