Details

Published on January 18, 2013 @ 10:36 pm
Written by Arielle
After the nice preview of KINGDOM HEARTS HD 1.5 ReMIX we got in this week's issue of Weekly Shounen Jump, we now have a high quality scan from V Jump featuring KINGDOM HEARTS 358/2 Days! Check it out below! Translations of the scan are thanks to Zephyr!
A message at the bottom of the scan shows that there will be a feature on the KINGDOM HEARTS Re: Chain of Memories section of KHHD in next month's issue, so look forward to it!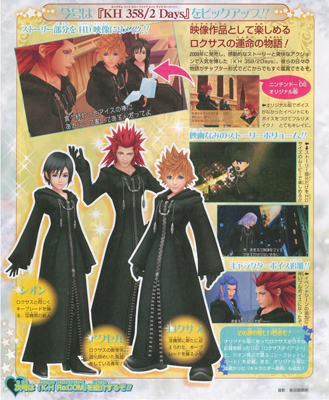 Pick up the Kingdom Hearts 358/2 Days issue now!

Part of the story are remade into HD cutscenes!
Enjoy the story of Roxas's fate through video works!

Released in 2009, Kingdom Hearts 358/2 Days gained popularity for compelling story and exhilarating action. You can enjoy the story of their lives by watching them in the form of chapters.

Original Nintendo DS version:
Voices that weren't present in cutscenes in the original version are now included with voices in the full remake! Very beautiful.

Volumes of story cinema!
Enjoy parts of the story in HD sized movies!
Character voices are added!
Full voices are added to event scenes!

Other elements that make me happy:
Roxas had a secret report chronicling his days in the original version is also included. Also, there wasn't a character dictionary in the original version.

Xion:
She can wield the Keyblade similarly to Roxas. She is a new member of Organization XIII.

Axel:
Mentor of Roxas. This young man has some sort of appearance of a clown!

Roxas:
Greeted to Organization XIII, he is a boy that can wield the Keyblade.

We're going to introduce Kingdom Hearts Re:CoM in the next issue!

Source: bKvEBVAvUq via Twitter