Details

Published on January 8, 2019 @ 05:07 pm
Written by Cecily
The KINGDOM HEARTS 3 x Tokyo Skytree collaboration event: Tower of Radiance and Shadow kicked off yesterday in Japan. Eager fans stopped by to check out the beautiful displays, look back on the series' history and let the magic and wonder of Kingdom Hearts sink in before the new game releases on January 25th, 2019.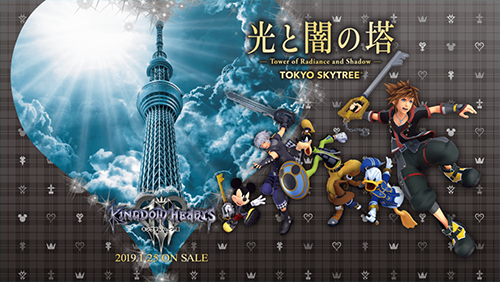 The KINGDOM HEARTS PREMIUM ROUND THEATER played on video screens at the venue, showing off various opening movies from throughout the series, as well as footage and renders from Kingdom Hearts 3. Twitter user @DoubleT2236 recorded an excerpt of it, which includes some extended clips of the Kingdom Hearts 3 opening, new look at Selfie Mode and a preview of Utada Hikaru's Chikai -orchestrated-! You can watch the footage on their Twitter page.
Follow Kingdom Hearts Insider on Facebook and Twitter for the latest updates on The World Ends With You, Kingdom Hearts Union χ [Cross], Kingdom Hearts III and all things Kingdom Hearts!