Details

Published on February 23, 2017 @ 03:25 pm
Written by Arielle
At the 2017 New York Toy Fair this past weekend, Diamond Select Toys revealed plans to release a new line of Kingdom Hearts figures along with Kingdom Hearts Minifigures pending licensor approval. Photos of the figures were not allowed, but a guest who attended the event managed to sneak a photo of the prototype figures which you can view below: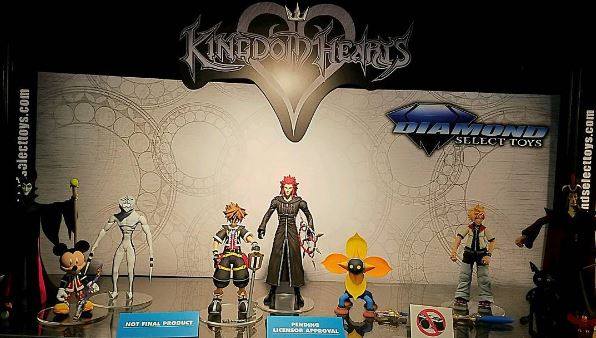 The Kingdom Hearts figure set is planned to retail at $24.99 USD and would include figures of Sora (Kingdom Hearts II), Axel, King Mickey, Roxas, Maleficent, Jafar with Abu and Iago, Shadow Heartless, Creeper Plant Heartless, and Dusk Nobody. The Minifigures (not pictured) would include Sora (Kingdom Hearts II), Donald, Goofy, Auron, Demyx, Jafar, Shadow, Tron, and Sark.
Follow Kingdom Hearts Insider on Facebook, Twitter, and Tumblr for the latest updates on Kingdom Hearts Unchained X, Kingdom Hearts 3, Kingdom Hearts HD 2.8 Final Chapter Prologue and all things Kingdom Hearts!
Thanks to forum users kupo1121 and Nazo for the tip!