Details

Published on January 20, 2018 @ 11:38 pm
Written by Cecily
All big releases are accompanied by an onslaught of rumors and leaks, and KINGDOM HEARTS 3 is certainly no stranger to them. We've had screenshots of a world based on Monsters Inc., found in a FTP server that was supposedly used as a means of communication between Square Enix and an art contractor. PHI from SERGE, an underground DJ, also claimed to have been involved in remixing battle and area music for a specific world, although all trace of this has since been deleted.
This time, the rumor comes from the February 2018 issue of the Playstation Official Magazine - Australia. In a short preview for this long-awaited title, they state that KINGDOM HEARTS 3 will be split up between the perspectives of Sora and Riku, and features new worlds to visit inspired by Toy Story, Fantasia and Tangled. While it's been confirmed that the game will include another playable character, the identity of this individual has yet to be revealed. A Fantasia world has also not been announced.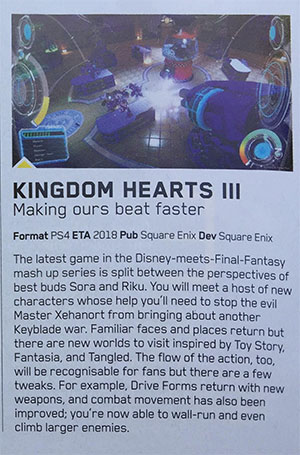 Do you believe that Playstation Official Magazine - Australia accidentally leaked legitimate information? Although the previously released Dream Drop Distance already includes a Fantasia world (and coincidentally also features Riku as another playable character), a world based on Fantasia 2000, the follow-up to the original film, had been considered but didn't make the cut. Perhaps KINGDOM HEARTS 3 offers the perfect opportunity to include it. Or could this just be a misunderstanding that slipped through in editing?
Follow Kingdom Hearts Insider on Facebook, Twitter, and Tumblr for the latest updates on Kingdom Hearts Union χ [Cross], Kingdom Hearts 3 and all things Kingdom Hearts!