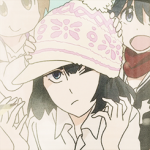 Hyped Ruler of Honnouji Academy
Joined

Jul 7, 2009
Messages

5,297
Age

26
Location
~ THE Terra CRITICS CLUB ~
"If He Only Had A Brain"
​
Terra. The eldest of Master Eraqus' students and a shining example for the future of Keyblade Masters. He also happens to be the biggest idiot in the entirety of the series, constantly being tricked by the Disney villains into doing their whim until he's finally duped BIG TIME by his idol, Master Xehanort resulting in being partly responsible for the death of his own master and becoming possessed by Master Xehanort to become the series' main villain.​
~ CC Owner/Founder ~
Theart​
~ Members ~
Ethnic Woman
Ven95
rokudamia2
UnKNoWn_TWiLiGhT
AkiraKiyoshi
metrifyx
Jelai
fantasy08
CA59
~ Reasons Why ~
​
1. His stupidity is overly cringe-worthy, bringing a new meaning to "all brawns and no brains".
2. Didn't even begin to suspect a pattern of being manipulated by DISNEY VILLAINS through out the entirety of the game, much less Master Xehanort.
3. He missed the STRANGER DANGER lesson
Last edited: