Details

Published on June 3, 2014 @ 11:17 am
Written by Joey
It's been a wild year for Kingdom Hearts fans across the globe. Almost one year ago Kingdom Hearts III shocked audiences everywhere with a surprise announcement at the Electronic Entertainment Expo (E3). Since then, bits and pieces have been revealed about the plot of Kingdom Hearts III, where the characters are now, and new gameplay features. Let's recap this last year as we lead up to E3.
The Sony conference started as any other. About halfway through the conference a video started to play and Tetsuya Nomura appeared on screen and started talking about Final Fantasy XV. After the trailer had finished playing Tetsuya Nomura came back onto the screen and announced that Kingdom Hearts III had officially been announced for Playstation 4 and Xbox One. The next day, Square Enix held a Future of Final Fantasy conference where they discussed Kingdom Hearts III in a bit more detail.
During this conference, they announced that Sora will be more mature than he had been in previous games. Donald, Goofy, and Mickey, who were absent in the announcement trailer, will be featured and there will be brand new Disney worlds.
The Osaka team, who have now worked on a number of Kingdom Hearts games, will be developing Kingdom Hearts III. Along with this, a synopsis of the game was revealed;
"Believing light and darkness must remain in balance, Master Xehanort seeks to spark war against the tyranny of light to restore equilibrium. In an effort to undermine Xehanort's plot, Sora, Donald and Goofy search for seven guardians of light and the Key to Return Hearts, while King Mickey and Riku search for previous Keyblade wielders. KINGDOM HEARTS III features a mature Sora as the main protagonist who sets forth on an adventure with Mickey, Donald and Goofy through new and legendary Disney worlds. KINGDOM HEARTS III will make full use of next generation console technologies to showcase a stunning universe packed full of worlds based on Disney properties."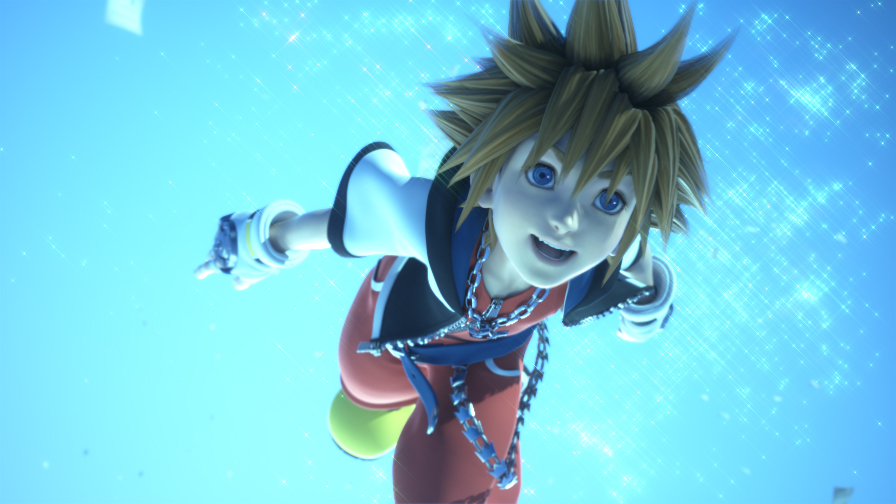 A lot more information was revealed over the next few days from interviews with Nomura and his team. While it was said that the game was announced too early, they were still excited to share a number of ideas they were currently testing.
Speaking with Game Informer, Tetsuya Nomura confirmed that Kingdom Hearts III's main story concludes Xehanort's arc and reinforces that it picks up immediately after the events of Dream Drop Distance. He also talked about some of the plot points some of the game will cover;
"The process of the wielders coming together will be the main storyline, but one of the highlights of the climax is going to be who is part of the seven lights and thirteen darkness when they get to the final battle. Would it be as everyone expected, or will there be unexpected members added to the mix? That is something to look forward to."
In October of 2013, Kingdom Hearts III made a second official appearance this time showcasing more of the gameplay and abilities Sora will possess. This trailer revealed Sora will be able to manipulate his weapons, changing them into guns and other objects, just like what the three protagonists of Birth by Sleep could do.
Another major reveal was the ability to summon boats and trains in order to scale large enemies and take them down. This will surely be a major factor into the new gameplay of Kingdom Hearts III.
Tetsuya Nomura expanded on this in his Conversation with Creators on October 16th 2013. When asked about the ability to jump as high as you want, he responded saying;
"In the actual game there will be some sort of limit, but this time we are adopting the "free run" style like in current action games, where you can run around, climb, etc. Additionally, your aerial ability and jump ability rise rapidly, so it feels like the action elements are really extravagant. I think people who have played KH2 might understand it easily, it already has greater mobility than Sora's Final Form from that game."
When asked about Donald and Goofy and their AI, Nomura revealed that;
"Their AI is also being powered up considerably. Since Disney characters have concrete personalities, I want them to act according to their own thoughts instead of just giving them an order and having them obey like in the Final Fantasy series. Relating to their AI, we're configuring it so Donald and Goofy act more like themselves."
Months went by without a word on Kingdom Hearts III. On the 9th of January 2014 Zap2it asked Haley Joel Osment, the voice of Sora, about Kingdom Hearts III.
"I saw the announcement and then talked a little bit with them on the phone, because the process is, I started doing Kingdom Hearts in 2001, and there's the main series and there's the Gameboy one... I feel like I've done seven or eight installments, which is awesome. But with this, they're making it now and the recording of the dialogue is one of the last parts of the process, so probably this summer or later is the soonest."
And now we're almost at the one year anniversary of the announcement of Kingdom Hearts III. Many fans are hoping that Kingdom Hearts III will be shown at either the Sony or Microsoft conference, while many others will be content with celebrating the anniversary of a game they've yearned many years for.
Kingdom Hearts Insider will be at E3 this year. You can Tweet questions to us at KHInsider on Twitter or follow us on Tumblr and Facebook for all the latest E3 and Kingdom Hearts news.