Details

Published on April 19, 2013 @ 08:35 pm
Written by Arielle
We hope you all have been enjoing the user-submitted editorials that have been written by KHInsider's fantastic members. Today we bring to you LightUpTheSky452's very insightful article on the lack of Kairi in the series thus far and her hopes for the seventh Princess of Heart in future KINGDOM HEARTS games! Enjoy!
Kairi: The True Forgotten Girl in Kingdom Hearts
By: LightUpTheSky452
Okay, I'll be the first person to say that I'm a pretty big SoKai fan, but what can I say? Ever since a nine-year-old Shanna beheld their cuteness with wide eyes, one thing became abundantly clear: I will go down with that ship.
Now, before fans of other pairings—or those who don't like Kingdom Hearts pairings at all—leave this post, let me be quick to inform you that this article isn't about pairings. Rather, this is an article about Kairi and her recent disappearance from the series, and some of the problems I think that's caused.
Whether you like her or not, there's no denying that Kairi added something to the overall formula, so here we're going to take a look at one of the reasons Kingdom Hearts will always be held in high regard…whereas Kingdom Hearts 3D [Dream Drop Distance] fell a little short of the mark.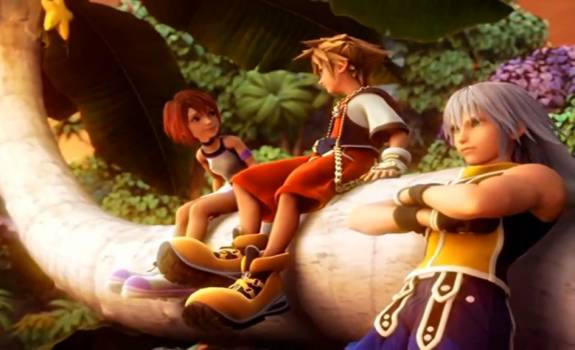 Kicking things off, let's start with the first Kingdom Hearts. Arguably the best game in the Kingdom Hearts series, and a fan favorite, one of the reasons this game was so powerful was because we had Sora and Riku desperately trying to save Kairi, but going different routes to do so. Though the little bit of shipping in this game was also cute, and implemented rather well, that isn't to say I don't like Kairi by herself. To the contrary, I light up about anytime she has screen time. When it comes down to it, I really respect the sweet, feisty, and strong-willed princess.
It is for this reason that I will always value Kingdom Hearts' ending over a lot of the others. Not only is Sora and Kairi's goodbye rather heart wrenching, but the entire CGI ending ends up being a Kairi montage of sorts. And though the Kairi ending is truly inspired, it's something that hasn't been carried onto other installments in the series. With that in mind, we move on to some of the problems Kingdom Hearts: Chain of Memories presents on the Kairi front.
Chain of Memories was a truly beautiful game. It added a new strategic sort of gameplay, it had a beautiful story that I think was good enough to stand on its own as an IP, and the return of Sora, Donald, and Goofy in the way they should be written was also great.
Despite how much as I love this game, there's no denying this was the beginning of Kairi's disappearance from the series. Instead of fighting to save Kairi this time around, we are instead met with her Nobody, Naminé. And sure, all of the memories she gave Sora were an outright lie, and mostly based on Kairi herself, but that doesn't change the fact that we've gone from having substantial Kairi scenes to metaphorical ones.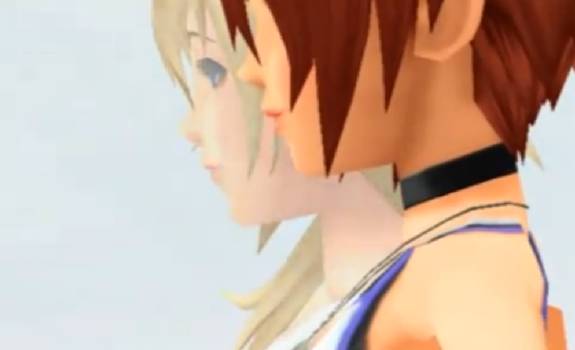 Also, as much as I love Naminé and Xion, it doesn't make Kairi look very good when she's being overshadowed by "other versions of herself." Still, at least Kairi was a driving force in this game, and at least we can see Sora looking at his lucky charm many times during it.
Now, we cannot forget 358/2 Days. I will be one of the few who openly admits to loving Days and Xion both, but that doesn't mean there aren't problems with Xion's addition to the franchise.
On one hand, I like Xion a lot because she might be the closest we've gotten to an insight into Kairi's mind (as Naminé said, Xion is "the Kairi that Sora remembers"). And there's also no doubt that Xion stands as an example of all Kairi could be, if she was given the chance, but...
The problem is Kairi's being featured in a roundabout way, but they're not featuring Kairi herself. Granted, I'm more than willing to give Nomura a break on this one (since it had been established in Kingdom Hearts II that Kairi had been living a normal life on the islands, and thus couldn't have really been in Days), but this just seems like another problem on a growing list of Kairi problems. And it is ironic that even though Kairi's "Others" are supposed to be the sympathetic "forgotten characters of Kingdom Hearts", I'm beginning to think that title better suits Kairi.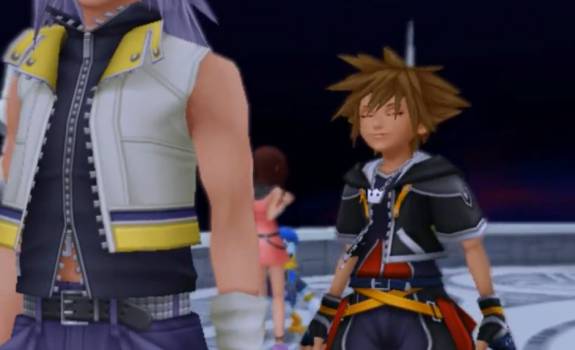 I have to say I was a big fan of Kairi in Kingdom Hearts II. What other people didn't deem good character development for Kairi in it, I thought was more than enough for this stage in her character arc. Taking from her line in Kingdom Hearts about wanting to protect Sora to heart comes Kairi's similar line of "this time I'll fight." Though I do think there are some problems with Kairi in this game, I did enjoy Nomura beginning to slightly—and realistically—break Kairi out of the Princess of Heart/Damsel in Distress mold.
If I have to say one thing that bothers me about Kingdom Hearts II it has to be towards the end, after the trio has been reunited, when Sora and Riku seem to be ignoring Kairi. Okay, so that isn't really the case at all (rather, Kairi just has a case of flat-character-syndrome, and Nomura just doesn't know what to do with her), but no matter how one chose to perceive those scenes, they were a bit unsettling. Even so, for the most part I was happy with Kairi trying to pull her own weight in this game, and was so excited to see what she'd do next! Except that hasn't happened yet, and it looks as though it might not happen until the long-awaited Kingdom Hearts III.
Like in Kingdom Hearts II, I thought Birth By Sleep did a lot of things right with Kairi. It set up her being a Keyblade wielder (and possibly one of the Seven Lights); it explained how she would get to Destiny Islands a few years later, etc. But it was at this point in the series that I started to see a real problem with Kairi's inclusion in it.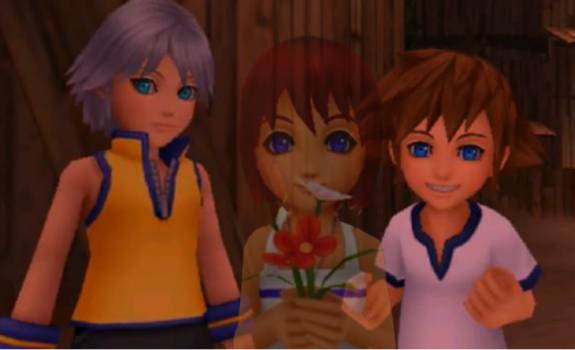 Granted, I'll once again give Nomura the benefit of the doubt and believe he has something amazing planned out (and remember that he does have a lot of characters to juggle), but let's look at this realistically. For one thing, this is the game that is starting to make the "trio" seem more like a "duo"; it has a ton of cute scenes with Sora and Riku as children, but none of them with Kairi. (This would have been the perfect time to show how Kairi got to the islands, too.)
As the Sora and Kairi scenes are starting to come less and less now, and there are little to no Riku and Kairi scenes at all in the series, it's ironic that in a series about trios it is the main trinity that falls the flattest. But even with all of this, this is not my main qualm about Birth By Sleep. No, my main issue about Kairi in Birth by Sleep is "Blank Points".
Though I do enjoy "Blank Points" very much, I can't help but feel Kairi was out of character in that cutscene. Handing Sora her charm and saying she'll "see him soon"? What in the world happened to the girl who said, "I'm tired of waiting, so don't tell me to stay behind! From now on, wherever one of us goes, the other follows, got it?"?!
Once again I am looking for some explanation to this, so as not to think Nomura's just forgotten how to characterize her, it does seem that Kairi is just putting on a brave face for Sora (and it is in her nature to put others first), but I really cannot understand why Kairi couldn't have just gone with Sora and Riku to watch them take their Mark of Mastery. After all, Sora and Riku thought their biggest threat was gone at this point, so this would have been a great time for them to show Kairi the wonders of the multiverse (and begin training her a bit).
I don't understand why she doesn't appear at Yen Sid's until the secret ending of [Dream Drop Distance]. And that game just seems so… empty without her somehow. Especially after Sora's heart's been shattered, and all his loved ones should be there for him...
Another game that didn't include Kairi the way it should have is Re:coded. The basic problem here? Nomura explicably stated in an interview that there could not be a Data Sora without a Data Roxas, as they make up one existence. And yet, there's a Data Naminé running around with no Data Kairi? The argument that Naminé was technically created from Sora, aside… it still is a weak argument, and now Nomura seems to be bending his own rules, too. He may have been able to argue the Data Naminé and Data Kairi thing, but there is no denying Kairi should have at least been in the Journal's memory of Destiny Islands.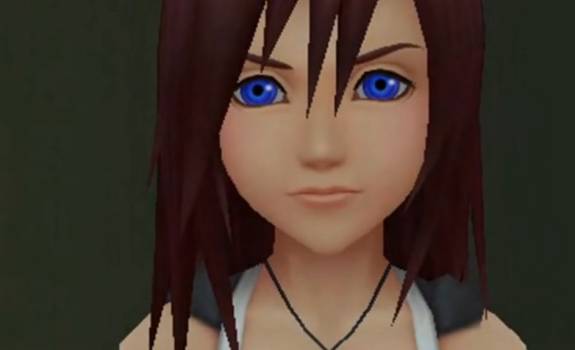 As bad as Re:coded was, [Dream Drop Distance] tries to fix the problem a little too late. Even though I was ecstatic to see Kairi in the secret ending, and in Sora's "my friends are my power" speech, this game also does a lot wrong with her. For one thing, Sora doesn't look at his lucky charm once in the game. Honestly, this might have to do with her being completely safe for the first time in who knows how long, but it just seems odd that the characters don't think of her too much at all (or even consider she should probably be there during certain scenes).
This game had a lot of opportunities for Nomura to work Kairi into things. Sora thinking Shiki is Kairi, anyone? The game was said to be rushed, but still. I can't help but feeling Kairi's role is becoming less and less as these games progress.
It certainly doesn't help in knowing that some of the things that distinguished her from the the others aren't so special anymore. Sora and Kairi's hearts being connected? Sora's heart is pretty much connected to everyone's these days. Kairi somewhat being the balance between Sora and Riku? Nope. It's now revealed that Riku keeps Sora "on his toes," and Sora is the person Riku strives to be like. With all of that, I can't be the only one wondering where Kairi's role is in all of this. When talking about her a few times in [Dream Drop Distance], the characters don't even always use her name! It's disheartening, really.
To tell the truth, [Dream Drop Distance] did not reach me as much as it could have, and I do believe it's because Kairi wasn't in it. I really did not care about Sora and Riku's test, or think there was any real danger to them at all, until the end of the game. There's no arguing that Sora and Riku trying to save Kairi in past games had much more of an impact than this game's story did. And really, since this was the ten-year anniversary of Kingdom Hearts, it's simply unacceptable how little Kairi was in it.
There's no denying that Kairi's role has changed a lot in this series, and I personally think it is a loss. It seems as though Kairi might finally get her time to shine in Kingdom Hearts III, but isn't that just too little too late? Do you possibly think her having a nice role in Kingdom Hearts III can make up for all the previous neglect?
What are your thoughts on all of this? Do you think Kairi being gone is a loss to the series, or do you think it's the best thing that ever happened to it? Do you want the Kairi loose ends to be tied up, or do you simply not care about them? Do you think, like I do, that Kairi should have been one of the first characters to be developed, or are you glad the bone was thrown to characters like Ven, Terra, and Aqua instead? Whatever you feel, be sure to discuss it in the forums!
For me personally, I know I'll be eagerly hoping for more Kairi scenes. In my eyes, it's high time we see the trio connect, and see their love for each other again. I think it's time for Sora to grow up a bit and feel a little weighed down by things, and what better way than through his feelings for Kairi?
I want to see Kairi as she was meant to be all along: the Light within the series' Darkness. As a character who's supposed to be extremely important to Kingdom Hearts, I think she more than deserves the chance to show us just what she'd made of.
And with that in mind, this is Shanna signing off.