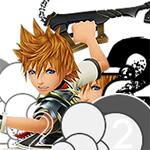 The following is taken from FFrepublic.
According to Yoichi Wada, Square Enix's current CEO, consoles are out and handhelds are in. Yep, the head of SE says that the 360 and the PS3 aren't what the majority of gamers want right now, despite the widely-covered "console wars".

"There is a new breed of gamers in the market - we have to make games for all kinds of people. In the old days, we could just focus on the PlayStation or the GameBoy, but the environment has changed comp...