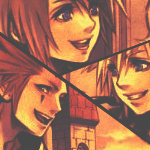 Hey everyone, Oathy here. Looks like a few wonderful Keyblade craftsmen have taken the opportunity to use their hobby and talent to benefit charity! A stunning Ultima Keyblade replica made out of wood and metallic paint is up for auction on eBay!
Proceeds from these Keyblades are going to Child's Play, a foundation that focuses on bringing toys and games to children's hospitals and helping support pediatric research.
I don't know about you guys, but the Keyblade looks p...