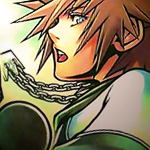 Kingdom Hearts: 358/2 Days (Nintendo DS)
Interviewer: Does the 14th member fight? What kind of weapon does she use?
Nomura: We've already decided, but we can't tell you right now.
Interviewer: Is the battle system the same in this game as it was in other games? I'm curious because there is no command menu there.
Nomura: The actions of the characters and the controls are different from the past games. This is because of the screen size, however the...