Details

Published on May 2, 2016 @ 08:34 am
Written by Joey
The promotional Zootopia medals and events have come to the North American version of Kingdom Hearts Unchained χ! Please find the information below for the event, and the medals and avatar costume parts further below!
UPDATE MAY 9: Additional boards have been added to Unchained χ! Visit the bottom of the article for more information!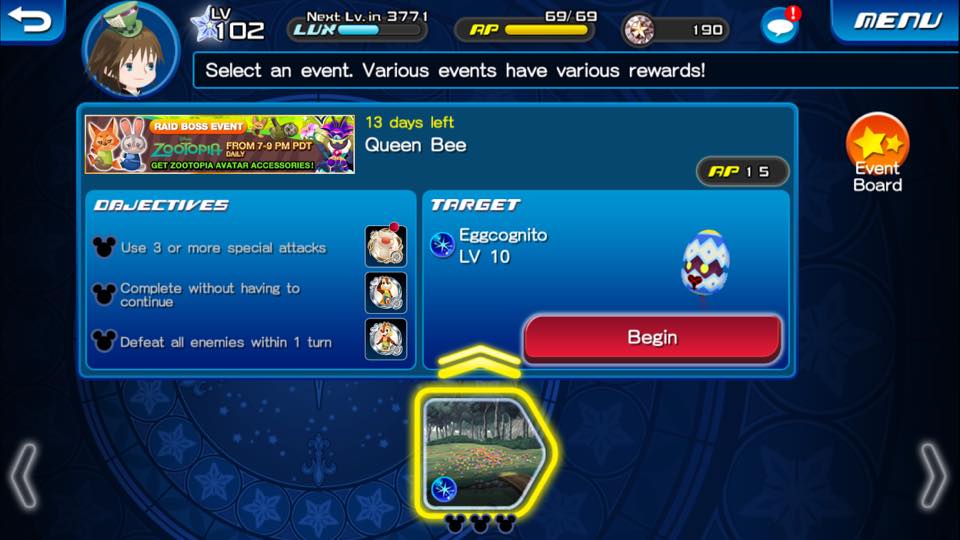 Event Period: May 2, 2016 12:00 a.m. to May 15, 2016 11:59 p.m. (Pacific Time)


Zootopia has come to Kingdom Hearts Unchained χ! But some powerful Heartless have come along as well!

Defeat the Queen Bee Raid Bosses with your friends, earn Event Coints, and unlock exclusive (and cuddly) snugglies for your avatar!

Here's the full list of the accessories you can get! (Accessories are unlocked for each Avatar gender separately.)

Nick Wilde Snuggly
Judy Hopps Snuggly
Flash Snuggly
Finnick Snuggly

NOTE: Event Coins are only dropped by the Queen Bee Raid Boss, and NOT by the Queen Bee Ω Heartless that appear in the Event Quest.




Every day for the duration of the event, between 7:00 p.m. and 8:59 p.m. (Pacific Time) you'll be able to get the following bonuses to help you collect Event Coins!



Appearance rate of Queen Bee and Queen Bee Ω doubles!
AP cost for Queen Bee and Queen Bee Ω battles is halved!
Lux rewards for defeating Queen Bee and Queen Bee Ω doubles!
The following information is for the medals and avatar costumes: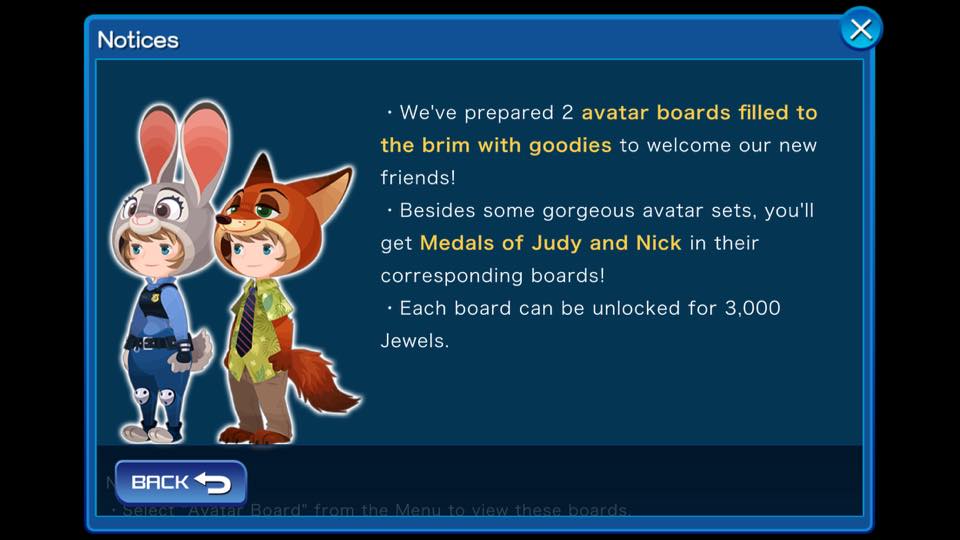 Celebrate Zootopia's arrival with new avatar costumes, Medals, and more!
Campaign Period: May 2, 2016 12:00 a.m. to May 15, 2016 11:59 p.m. (Pacific Time)




We've prepared 2 avatar boards filled to the brim with goodies to welcome our new friends!

Besides some gorgeous avatar sets, you'll get Medals of Judy and Nick in their corresponding boards!

Each board can be unlocked for 3,000 Jewels.



NOTES:

Select "Avatar Board" from the Menu to view these boards.

Once purchased, these avatar boards will remain unlocked for you even after the campaign period ends. (If you have not unlocked these avatar boards before the campaign end time, they will no longer be available to you.)

You will not need Avatar Coins to unlock nodes on these boards.
MAY 9TH 2016 UPDATE:
Get Nick and Judy Avatar Accessories!

Event Period: May 9, 2016 12:00 a.m. to May 15, 2016 11:59 p.m. (Pacific Time)

We are happy to announce the addition of 2 new Event Boards for the ongoing Zootopia Raid Event!
Don't miss out on the chance to get your hands on these adorable Judy and Nick pouches!

Here's a list of what you can get!


Nick Wilde Pouch
Judy Hopps Pouch
Boost Medals
Cost Medals
Exp Medals
Munny Medals


(For the full list of prizes, visit the Events section)

NOTE: Please refer to the original notice (Zootopia Raid Event and Prizes!) for details on the Zootopia Raid Event.

Thank you for playing KINGDOM HEARTS Unchained χ!

Thank you Fata1Thumbs for the info!