Details

Published on June 13, 2014 @ 04:01 am
Written by Sophearum
Kingdom Hearts Co-director Tai Yasue appears in an issue of Dengeki magazine and answers a couple of questions in an interview about the development of Kingdom Hearts HD 2.5 ReMIX!
Co-director Tai Yasue mentions a number of difficult experiences and key changes within KINGDOM HEARTS HD 2.5 ReMIX. Such difficulties he encountered was transitioning KINGDOM HEARTS II FINAL MIX into a widescreen aspect ratio. Notable gameplay adjustments have been made for KINGDOM HEARTS Birth by Sleep due to a popular request in a questionnaire for the game to be rebalanced. These adjustments include the Mirage Arena and EXP Zero. Since the Mirage Arena can only be fought alone, the battles are now better suited for solo play. Tai Yasue also confirms the game is near completion. Tell us below what kinds of enhancements you are excited to see within KINGDOM HEARTS HD 2.5 ReMIX!

Special thanks to ExeForce87 for the Dengeki scan! Zephyr (me) have provided translations.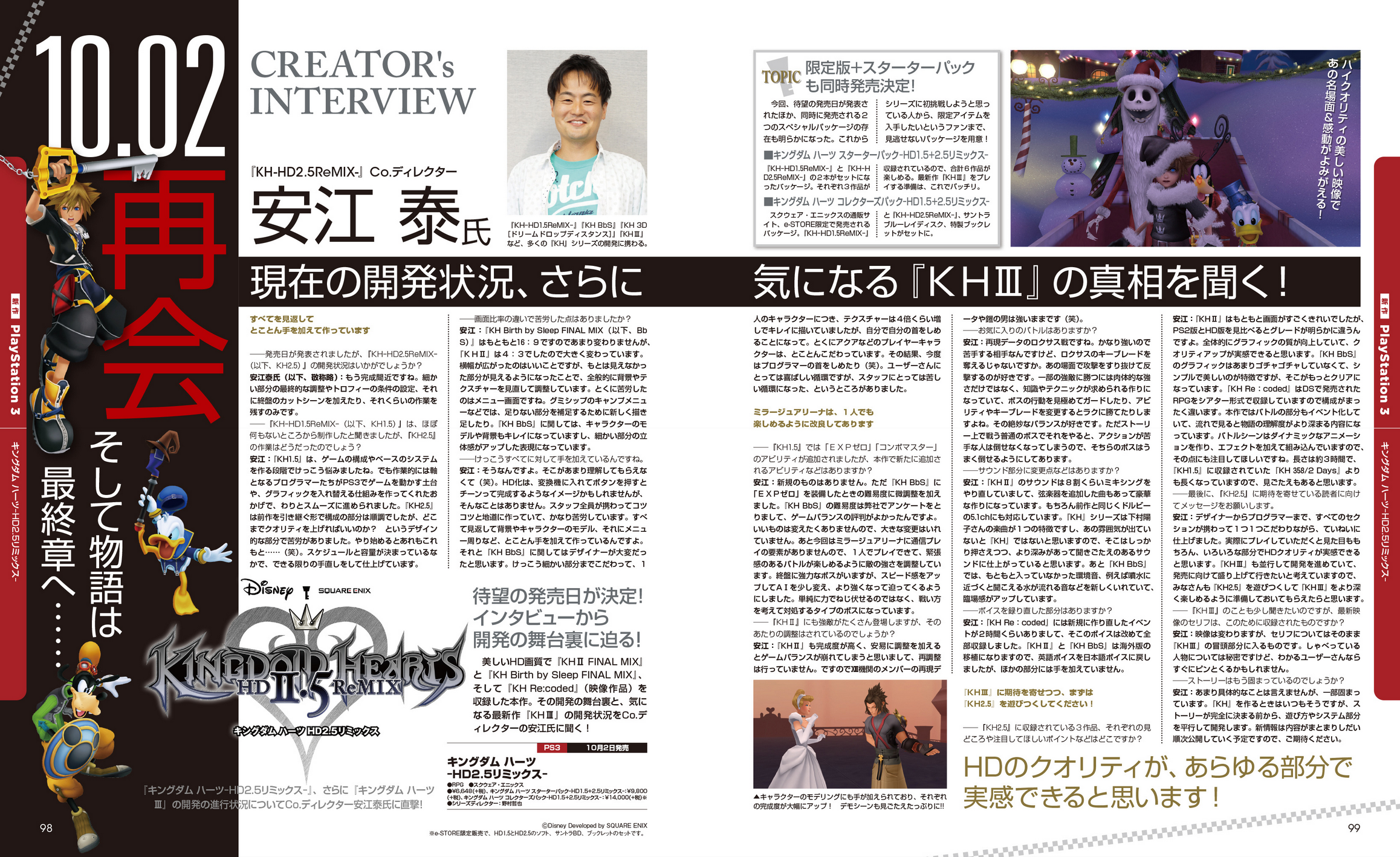 Meet again for the last chapter of the story…

Creator's Interview

KINGDOM HEARTS HD 2.5 ReMIX Co-director Tai Yasue

He has taken part in developing many games for the KINGDOM HEARTS series such as KINGDOM HEARTS HD 1.5 ReMIX, KINGDOM HEARTS Birth by Sleep, KINGDOM HEARTS 3D [Dream Drop Distance], and KINGDOM HEARTS III.

Hear the facts about the current development status of KINGDOM HEARTS III!

Take a look through all the additions made

- Although the release date has been announced, what about the development status of KINGDOM HEARTS HD 2.5 ReMIX?

Tai Yasue: It's almost finished. Much of the work left is: we're making small adjustments, setting the requirements for the trophies, and applying finishing touches to the cutscenes.

- About KINGDOM HEARTS HD 1.5 ReMIX, I heard it was developed from scratch and what about KINGDOM HEARTS HD 2.5 ReMIX?

Tai Yasue: For KINGDOM HEARTS HD 1.5 ReMIX, I was quite troubled creating the structure and base system of the game. I was promoted to work as and become one of the programmers. I also previously took part of the configuration in KINGDOM HEARTS HD 2.5 ReMIX and it's going steadily. As for how the quality progress has been? There were struggles with the design portion. It was beginning to spike here and there… (laughs) With our current schedule and capacity, we are determined to rework much of it as much as possible.

- Did you have any difficulties over the difference between screen ratios?

Tai Yasue: We didn't change much for KINGDOM HEARTS Birth by Sleep because it's already 16:9 but a lot has changed in KINGDOM HEARTS II because it was 4:3. Thanks to the expanded width, parts you were unable to see are now visible; backgrounds and textures are being adjusted. I was having a difficult time especially with the menu screen. In the Gummi Ship camp menu, we've added new drawings in order to supplement the missing parts. For KINGDOM HEARTS Birth by Sleep, character models and backgrounds have become more beautiful and cleaner and some parts that gave a three dimensional impression are now expressed.

- All those additions must of been a handful.

Tai Yasue: That's right. You wouldn't be able to understand. (laughs) Converting to HD, it would seem that pressing the button would come with complete images but it wasn't the case. All of the staff involved are steadily making progress and we have our fair share of problems. We've been thoroughly making adjustments for the backgrounds, character models, and menus. Furthermore in KINGDOM HEARTS Birth by Sleep, designing was difficult I thought. We paid attention to small details and it's become our goal to increase the quality of each character and textures about four times. We spent a lot of time, particularly on the playable character Aqua. Therefore, our programmer necks have been tightened (laughs). It may be gratifying for our audience but it was very stressful for our staff. The Mirage Arena has been improved and can be enjoyed alone.

- In KINGDOM HEARTS HD 1.5 ReMIX, EXP Zero and Combo Master abilities have been added. Are there any new abilities in this game?

Tai Yasue: There isn't anything new. However, in KINGDOM HEARTS Birth by Sleep, we've adjusted the difficulty for those equipping EXP Zero. We had a questionnaire and many people would have liked to have the difficulty to be rebalanced. Because we didn't want to change things that were already good, there weren't that many big changes. Since there is no multiplayer feature in the Mirage Arena, you can only play alone and we've adjusted the strength of enemies for you to enjoy. There is a powerful boss at the end and the AI's reaction has been adjusted to be faster and more fierce. Instead of it becoming a battle of strength, it is a type of boss battle you would have to think through.

- Although many formidable enemies appeared in KINGDOM HEARTS II, were there any adjustments?

Tai Yasue: KINGDOM HEARTS II feels almost perfect and any other adjustments can easily make it broken. In case you're wondering, we have not made any adjustments. The data versions of Organization XIII and the Man in Armor are definitely strong. (laughs)

- Do you have a favorite battle?

Tai Yasue: It's the Data Roxas fight. He's an opponent who's fairly strong and fairly weak. There is a scene where you can snatch Roxas's Keyblades and I like having to fight back with them. Not just physical strength is required to defeat some of the strong enemies, we made it so some knowledge and technique is necessary. You can predict the movements of the boss whenever you guard, or being able to win more easily with certain Keyblades or abilities. I like this perfect balance. In the story, if you fight a boss in a world with careless decisions, it would be unbeatable.

- Were there any changes to the sound?

Tai Yasue: About 80% of the tracks were redone and there were tracks that also included string instruments; it has become luxurious. It also supports 5.1ch Dolby. Yoko Shimomura is the one who does the music for the KINGDOM HEARTS series and I think there isn't anything that feels out of place. You can hear there is much more depth to the sound in the finished product. As for KINGDOM HEARTS Birth by Sleep, the environmental sounds were not contained from the original so we've placed new ones. The water, for example, when you approach a fountain, you can hear the water running. A sense of reality has been heightened.

- Have you re-recorded the voices?

Tai Yasue: In Re:coded, there are about two hours of events that have been recreated and we've re-recorded the voices. Because the overseas edition has been carried over from KINGDOM HEARTS II and KINGDOM HEARTS Birth by Sleep, we simply reverted the English voices to Japanese voices.

While we receive expectations for KINGDOM HEARTS III,
Please enjoy playing KINGDOM HEARTS HD 2.5 ReMIX.

- KINGDOM HEARTS HD 2.5 contains three works and what are the highlights and things to notice for each?

Tai Yasue: The picture quality of KINGDOM HEARTS II is already beautiful but the level of quality is clearly different when comparing it between the PS2 version and HD version. I think the quality of the graphics has been improved as a whole and you would be able to notice it. The graphics of KINGDOM HEARTS Birth by Sleep doesn't have much clutter, although it is known for its simplicity and beauty and it has become a lot more clear. Re:coded was an RPG that was released for the DS and since its format was vastly different, we made it in a theater format. Parts of the battles and events have been made to flow into a level of understanding where the story deepens further. Battle scenes have dynamic animations and I want you to notice the special effects that were incorporated. The length is about three hours and KINGDOM HEARTS 358/2 Days within KINGDOM HEARTS HD 1.5 ReMIX is also as long and worth watching.

- Do you have a message for readers who are looking forward to KINGDOM HEARTS HD 2.5 ReMIX?

Tai Yasue: From being designer and a programmer, I've carefully been involved with each of those aspects. When you get a chance to play it with your own eyes, you may be able to notice the HD quality in many different areas. Since we are also developing KINGDOM HEARTS III simultaneously, we would like you to be prepared and liven up to the release. We would like everyone to play KINGDOM HEARTS HD 2.5 ReMIX so you can truly enjoy KINGDOM HEARTS III more deeply.

- We heard little from KINGDOM HEARTS III and what was the purpose of recording those lines in the latest trailer?

Tai Yasue: Although the footage may change, KINGDOM HEARTS III will be about those words from the start of the game. It's a secret, but as for whom is speaking, you may be able to pin down immediately from the figures seen.

- Has the story been finalized together yet?

Tai Yasue: I can't say for sure but a portion of it has been set in stone. When creating a KINGDOM HEARTS game, the storyline must usually be completely determined; how it will play and its system will be quickly developed simultaneously. New information is expected to be released soon as soon as we're ready. Please stay tuned!

Follow Kingdom Hearts Insider at Twitter or follow us on Tumblr & Facebook for all the latest Kingdom Hearts news.