Details

Published on August 23, 2010 @ 03:46 pm
Written by Raz
Hello everybody!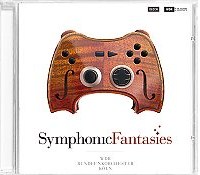 The CD recording of Symphonic Fantasies, the popular video-game music concert, is set to be released on September 17th in Germany.
For those not familiar with the concert, Symphonic Fantasies is an orchestral live album featuring music from Square-Enix titles such as Secrets of Mana, Chrono Trigger, Chrono Cross, Final Fantasy, and (of course) Kingdom Hearts. This is a great purchase for Yoko Shimomura fans and music lovers in general.
©2016 KHInsider. KINGDOM HEARTS official artwork, trailers, characters, merchandise, and music is copyrighted to Square Enix and Disney.
Original material is licensed under a Creative Commons License permitting non-commercial sharing with attribution.
Please read our privacy policy for more information | Legal Information