Details

Published on June 17, 2015 @ 01:16 am
Written by Katie
Square Enix Presents Kingdom Hearts with Nomura Tetsuya and Tai Yasue!

Unchained χ

Nomura acknowledges the western audience's desire to play Kingdom Hearts χ and acknowledges many Western players having accounts which was part of their decision to bring Unchained χ to the Western players.
The story between χ and Unchained χ are very similar but there is a "gimmick" of sorts between the two versions. We'll find out about the "two different keys as the story is revealed".
χ/Unchained χ officially sit before the Keyblade War on the official Kingdom Hearts timeline. They lead into the Keyblade War.
χ/Unchained χ are said once again to connect to Kingdom Hearts 3.
χ/Unchained χ will have characters appear that we have yet to meet in the series (possibly referring to the Foretellers) and Nomura urges everyone to play.
The art style is based on the concept of a "story book"; Nomura wanted us to feel like we were playing a page out of a story.
Nomura asks everyone to pay close attention to the dialogue in the word bubbles in the trailer.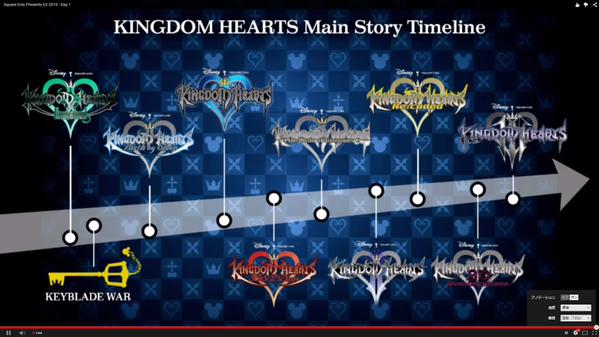 Kingdom Hearts 3
E3 was the first time showing Tangled off; Tangled was chosen as a world because everyone on the development team wanted it to be in Kingdom Hearts 3.
One of the first meetings for Kingdom Hearts 3 included the transforming Keyblade idea; they wanted it to transform in real time.
The worlds included in Kingdom Hearts 3 will be newer areas never experienced before (keep in mind they specified AREAS).
Nomura just met with Disney about what world they could announce after Tangled; they might be able to announce the next official world in Kingdom Hearts 3 soon!
About the Heartless: the Dandy-lion Heartless seen in the Tangled world spawns more Heartless when you hit them. Heartless will also co-operate with each other against Sora, "almost like a mother/child relationship" where they try to protect each other.
Nomura had a hard time deciding to change Sora's costume; Nomura knew the Kingdom Hearts 2 costume for Sora was very popular and wasn't sure if he should keep it or change it because Kingdom Hearts 3 was the first new numbered title in so long.
The staff pushed Nomura to decide to change Sora's outfit!
Sora's Kingdom Hearts 3 outfit is a mix of his old Kingdom Hearts 2 one and his newer Dream Drop Distance one. Nomura also wanted it to be sleeker and sportier to reflect Sora's new battle style in which he moves a lot more.
The volume of Sora's hair was actually muted.
When creating Attraction Flow, the team wanted to bring out the sense of thrill and excitement that accompanies theme park rides.
Initially when Sora would do an Attraction Flow attack, the camera would switch to first person and would be from Sora's perspective. It was proven to be far too severe and was subsequently changed.
There was a lot more content they wanted to share with us but were limited due to the length of time they were alotted for the trailer.
They're planning to be present at D23 and are hoping to reveal more information about Kingdom Hearts 3 this year.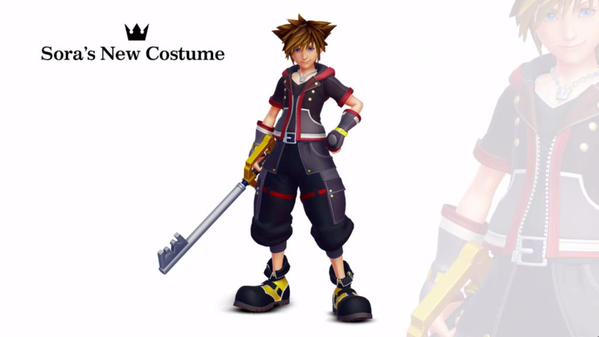 ©2016 KHInsider. KINGDOM HEARTS official artwork, trailers, characters, merchandise, and music is copyrighted to Square Enix and Disney.
Original material is licensed under a Creative Commons License permitting non-commercial sharing with attribution.
Please read our privacy policy for more information | Legal Information