We have confirmed an issue with the ongoing Tsum Tsum Union Cross quests where players would lose control of their characters after defeating the boss and the quest would not be flagged as completed.
We have identified the cause of the issue and addressed it accordingly.
As an apology for this issue, we will be sending Jewels to all players.
NOTE: Jewels will be sent on Sept. 14, 2017 at 12:00 a.m. (PT).
We apologize for any inconvenience this issue may have caused.
We hope you continue to enjoy KINGDOM HEARTS Union χ[Cross]!
---
[Update Sept. 14]
Past Avatar Boards Return!
★ Favorite Avatar Boards Return for an even more Favorable Price!
■Campaign Details:
Sept. 14, 2017 12:00 a.m. to Sept. 20, 2017 11:59 p.m. (PT)
Sept. 14, 2017 7:00 to Sept. 21, 2017 6:59 (UTC)
Some of your favorite avatar boards are back, and available for only 1500 Jewels apiece!
Act fast, as they'll only be around for a limited time!
NOTE: If you had previously purchased these boards, you will not be able to purchase them again.
■Returning Avatars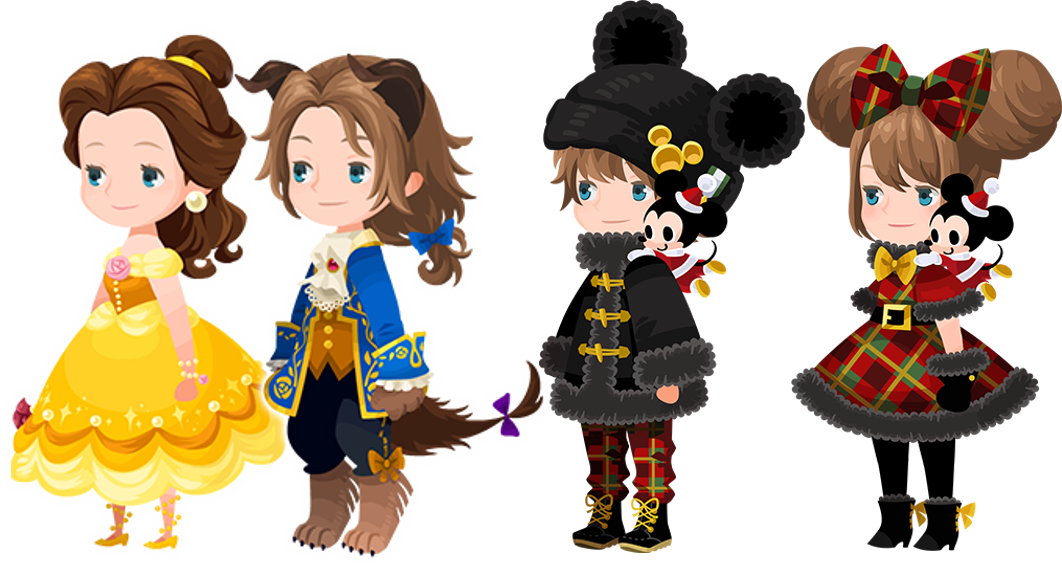 ■About Avatar Boards:
・Select "Avatar Boards" from the Menu to view these boards.
・Once purchased, these avatar boards will remain unlocked for you even after the campaign period ends.
 (If you have not unlocked these avatar boards before the campaign end time, they will no longer be available to you.)
・You will not need Avatar Coins to unlock nodes on these boards.
■Avatar Board Contents
Beast (Male)
Belle (Female)
Beast
Beast Style
Beast: Horn
Beast: Tail (Item Drop Perk +3)


No Cost x 1

(6★ Scrooge)


Attack Prize Plus x 1

(5★ Scrooge)


Power Gem

x 1
6★ Huey & Dewey & Louie x 3
6★ Chip x 3
6★ Dale x 3
6★ Cid 10 x 2
6★ Magic Mirror x 1


Title:

Beast
Belle
Belle Style


Belle: Earrings

(Skill Perk +6)


Belle: Bracelets & Rose




No Cost x 1

(6★ Scrooge)


Attack Prize Plus x 1

(5★ Scrooge)


Power Gem

x 1
6★ Huey & Dewey & Louie x 3
6★ Chip x 3
6★ Dale x 3
6★ Cid 10 x 2
6★ Magic Mirror x 1


Title:

Stunning
Winter Mickey (Male)
Winter Minnie (Female)
Winter Mickey
Winter Mickey: Hat
Winter Mickey: Santa Mickey Doll (Skill Perk +6)


Winter Mickey Style




Attack Prize Plus x 1

(5★ Scrooge)


ATK Boost III x 1

(6★ Scrooge)


Power Gem

x 1
6★ Huey & Dewey & Louie x 3
6★ Chip x 3
6★ Dale x 3
6★ Cid 10 x 2
6★ Magic Mirror x 1 (in Winter Mickey Avatar Board only)


Title:

Winter
Winter Minnie
Winter Minnie: Ribbon
Winter Minnie: Santa Mickey Doll (Skill Perk +6)
Winter Minnie Style
Winter Minnie: Gloves


Attack Prize Plus x 1

(5★ Scrooge)


ATK Boost III x 1

(6★ Scrooge)


Power Gem

x 1
6★ Huey & Dewey & Louie x 3
6★ Chip x 3
6★ Dale x 3
6★ Cid 10 x 2


Title:

Snow


---
Follow us on Twitter for the latest news! @Daybreak_Town