Details

Published on August 9, 2010 @ 12:04 pm
Written by Raz
Hello again!
Kingdom Hearts Re:coded seems to be close to complete, for today the official pre-order cover art was released. Note that this will not be the final design. Take a look--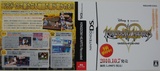 Just like the original coded, the remake will have connections to the online avatar game Kingdom Hearts Mobile. Will KH:Mobile make it beyond Japan with the international release of Re:coded? We'll keep you posted!
Tell us what you think about the new cover on our Forums.
Thanks: KH Destiny, azalyn, Soluus
©2016 KHInsider. KINGDOM HEARTS official artwork, trailers, characters, merchandise, and music is copyrighted to Square Enix and Disney.
Original material is licensed under a Creative Commons License permitting non-commercial sharing with attribution.
Please read our privacy policy for more information | Legal Information