Details

Published on September 6, 2010 @ 08:00 am
Written by .:[Kazuma]:.
Hiya, guys!
You might have seen jeels posting an update a few days back concerning the newly-revealed box art for Kingdom Hearts Re:coded, Nintendo DS remake of the Japanese DoCoMo phone game Kingdom Hearts CODED; it seems the Kingdom Hearts staff have given us another message straight from The Kingdom about it! I'm not sure if it was Tetsuya Nomura, series director, himself, but it seems like it since he says this:
Actually, the cover is made from a special material that makes it shine.

This is just a picture I took with my mobile phone, so it's hard to tell... But I made it with the image of KH Re:Coded's Data World in mind.
He then posts this image: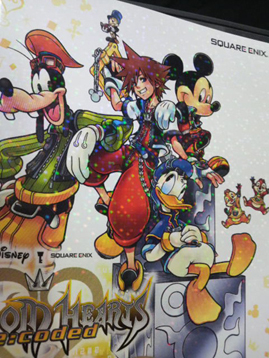 To read the full update, visit our lively forums!
Many thanks go to members Rexy for supplying the news and Key to Truth for giving us a translation on this!
©2016 KHInsider. KINGDOM HEARTS official artwork, trailers, characters, merchandise, and music is copyrighted to Square Enix and Disney.
Original material is licensed under a Creative Commons License permitting non-commercial sharing with attribution.
Please read our privacy policy for more information | Legal Information