★ Get five 7★ Medals and one bonus Dual Meow Wow [SAB LV 9] per draw from this deal!
Available 3 times per day!
Draws offer 5 Limited VIP Coins per draw!
■ Campaign Period
May 20, 2019 12:00 a.m. to May 24, 2019 11:59 p.m. (PT)
May 20, 2019 7:00 to May 25, 2019 6:59 (UTC)
See in-game for more details!
★ Limited VIP Coins
Limited VIP Coins can be used to unlock rewards from the ongoing Limited VIP Boards!
* All Limited VIP Coins currently being distributed will expire on May 31 2019 11:59 p.m. (PT) / Jun. 1, 2019 6:59 (UTC).
---
Aladdin and Princess Jasmine Boards Return!
★To celebrate the release of Aladdin in the theatres, Aladdin and Princess Jasmine avatar boards return!
■ Available Period:
May 20, 2019 12:00 a.m. to Jun. 3, 2019 11:59 p.m. (PT)
May 20, 2019 7:00 to Jun. 4, 2019 6:59 (UTC)
■ Price
1,500 Jewels
■ Avatar Board Contents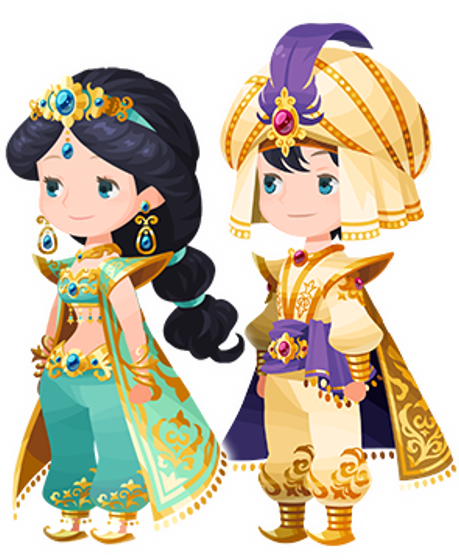 Aladdin (Male)
Princess Jasmine (Female)
Aladdin
Aladdin Style
Aladdin: Turban
Aladdin: Brooch (Raid Boss Ω Perk +5)


Aladdin: Cape




Title:

Munnyonaire
Princess Jasmine
Princess Jasmine Style
Princess Jasmine: Tiara
Princess Jasmine: Earrings (Rare Enemy Perk+2)


Princess Jasmine: Bangles




Title:

Leading Lady
Rewards included in both boards:


ATK Boost II & ATK Prize+

x 1 (6★ Scrooge)


Magic Gem

x 1
6★ Chip x 3
6★ Dale x 3
6★ Cid 10 x 2
6★ Huey & Dewey & Louie x 3
6★

Magic Mirror

x 1
* If you had previously purchased these returning boards, you will not be able to purchase them again.
■ About Avatar Boards
・Select "Avatar Boards" from the Menu to view these boards.
・Once purchased, these avatar boards will remain unlocked for you even after the campaign period ends.
 (If you have not unlocked these avatar boards before the campaign end time, they will no longer be available to you.)
・You will not need Avatar Coins to unlock nodes on these boards.
---
Follow us on Twitter for the latest news! @Daybreak_Town