Details

Published on September 20, 2018 @ 02:23 am
Written by Cecily
A brand new, limited edition KINGDOM HEARTS III-themed Playstation 4 has been unveiled at the Tokyo Game Show! Fans in Japan can place preorders online via the official Sony store website, or at the locations in Ginza, Sapporo, Nagoya, Osaka, and Fukuoka Tenjin.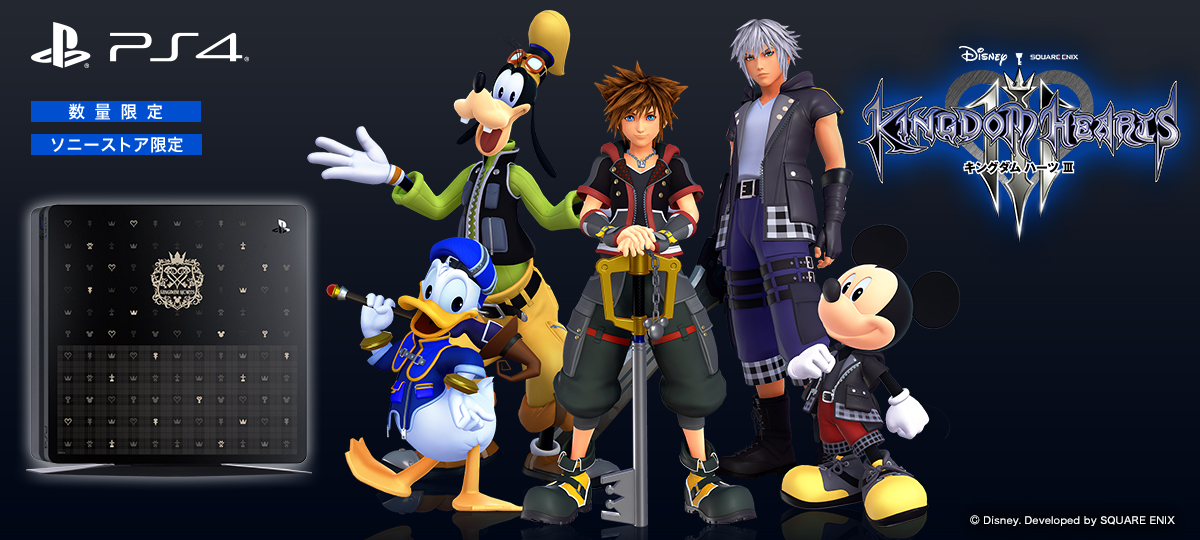 This package, to be released on January 25, 2019, will include:
Jet Black Playstation 4 [JP Sony Store]

500 GB model will cost 33,980 yen plus tax
1 TB model will cost 39,890 yen plus tax

Playstation 4 Top Cover, engraved with an original design featuring the Kingdom Hearts III emblem and tartan checks

The Kingdom Hearts III Playstation 4 top cover will also be sold separately for a limited time (until October 31, 2018 at 16:00 JST). It will cost 3500 yen plus tax. [JP Sony Store]

Kingdom Hearts III original PS4 theme (design will be unveiled in November)
Kingdom Hearts III original design package (design will be unveiled in November)
Jet BLack Dualshock 4 wireless controller
Mono Headset
Power Cord
HDMI cable
USB cable
Kingdom Hearts III is not included in the package and must be purchased separately.