Details

Published on March 27, 2013 @ 09:47 pm
Written by Cecily
KINGDOM HEARTS χ[chi] makes a surprise appearance in this week's issue of Famitsu Weekly! The focus of the article this week is one the recent beta test that ran from March 22-March 25th and the competing teams within the game. As we learned from the SE chan radio show, players will be split into one of five teams that are fighting for the light.
Thanks to Zephyr, here are translations of the article!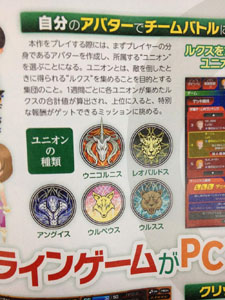 Battle Teams for your Avatar

When you begin playing this game, you will be able to create an avatar, which the player displays himself/herself as, and you have the decision to decide which union your avatar belongs. The union's purpose is to collect lux by defeating enemies. The total number of lux collected will be calculated and unions will be scored/ranked each week. You can get special rewards for going beyond the missions.

Types of Unions

ウニコルニス - Unicornis
レオバルドス - Leopardus
アングイス - Anguis
ウルペウス - Vulpes
ウルスス - Ursus
Source: bKvEBVAvUq