Details

Published on December 20, 2018 @ 09:43 pm
Written by Cecily
The long-awaited KINGDOM HEARTS 3 is finally releasing on January 29th, 2019. To commemorate the occasion, a special variety book titled the "KINGDOM HEARTS Perfect Book" will be released on December 28th, 2018 for ¥ 1,944 (roughly $17.47 USD).
The book features a 15 year retrospective on the series and contains artwork and exclusive interviews with Director Tetsuya Nomura, as well as Miyu Irino, Mamoru Miyano and Kouki Uchiyama, who play Sora, Riku and Roxas/Ventus respectively.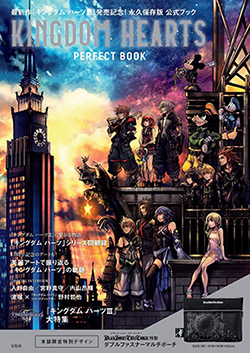 Stories connected to KINGDOM HEARTS III
KINGDOM HEARTS Series Retrospective

15th anniversary commemorative artwork!
Look back on beautiful artwork
The miracle that is KINGDOM HEARTS

<SPECIAL INTERVIEW>
Miyu Irino / Mamoru Miyano / Risa Uchida
HARU x KINGDOM HEARTS Series Director Tetsuya Nomura

KINGDOM HEARTS III Special Feature
The book also comes with a full leather pouch decorated with the lace design featured on the limited edition Kingdom Hearts 3 PS4 Pro. The pouch is designed by Takahara Akita, a designer on the BLACK HONEY CHILI COOKIE fashion brand.
Preorder the KINGDOM HEARTS Perfect Book from Amazon Japan!
Follow Kingdom Hearts Insider on Facebook and Twitter for the latest updates on The World Ends With You, Kingdom Hearts Union χ [Cross], Kingdom Hearts 3 and all things Kingdom Hearts!