Details

Published on February 26, 2013 @ 06:24 am
Written by Cecily
We've had a great day of exciting news today, so let's keep the ball rolling! We've managed to catch a glimpse of the back cover for KINGDOM HEARTS HD 1.5 ReMIX, which includes some useful information that had been frequently requested.
As you can see from the package below, the video output available is NTSC 480p, 720p, 1080i and 1080p with audio output at Linear PCM 2ch, 5.1ch, Dolby Digital 5.1ch and DTS Digital Surround 5.1ch. An installation of 10.9MB is required to play the game. There is no 3D support.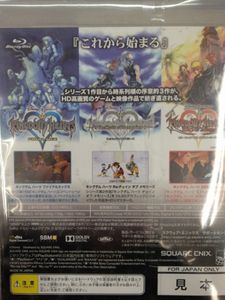 Source: bKvEBVAvUq