Details

Published on May 21, 2018 @ 03:21 pm
Written by Cecily
The KINGDOM HEARTS 3 Premiere Event was held in Santa Monica, California on May 17~18. Press, influencers and VIP guests were invited to attend and had the opportunity to be one of the first in the world to play the game. Staff members Cecily, PJ and Arielle were fortunate to receive an invitation to go hands-on with Kingdom Hearts 3. Over the week, we will publish recaps, impressions, and critiques, so please look forward to it.
To start off, here is a summary of the developer's panel held at the KINGDOM HEARTS 3 Premiere Event on May 18th. Producer Shinji Hashimoto provided an opening statement. Participating in the panel were Community Manager Sunil Godhania, Translator Aileen Matsuoka, Director Tetsuya Nomura and Co-Director Tai Yasue.
(This does not include the presentation by Pixar's Jason Katz and Tasha Sounart, which was held the previous day.)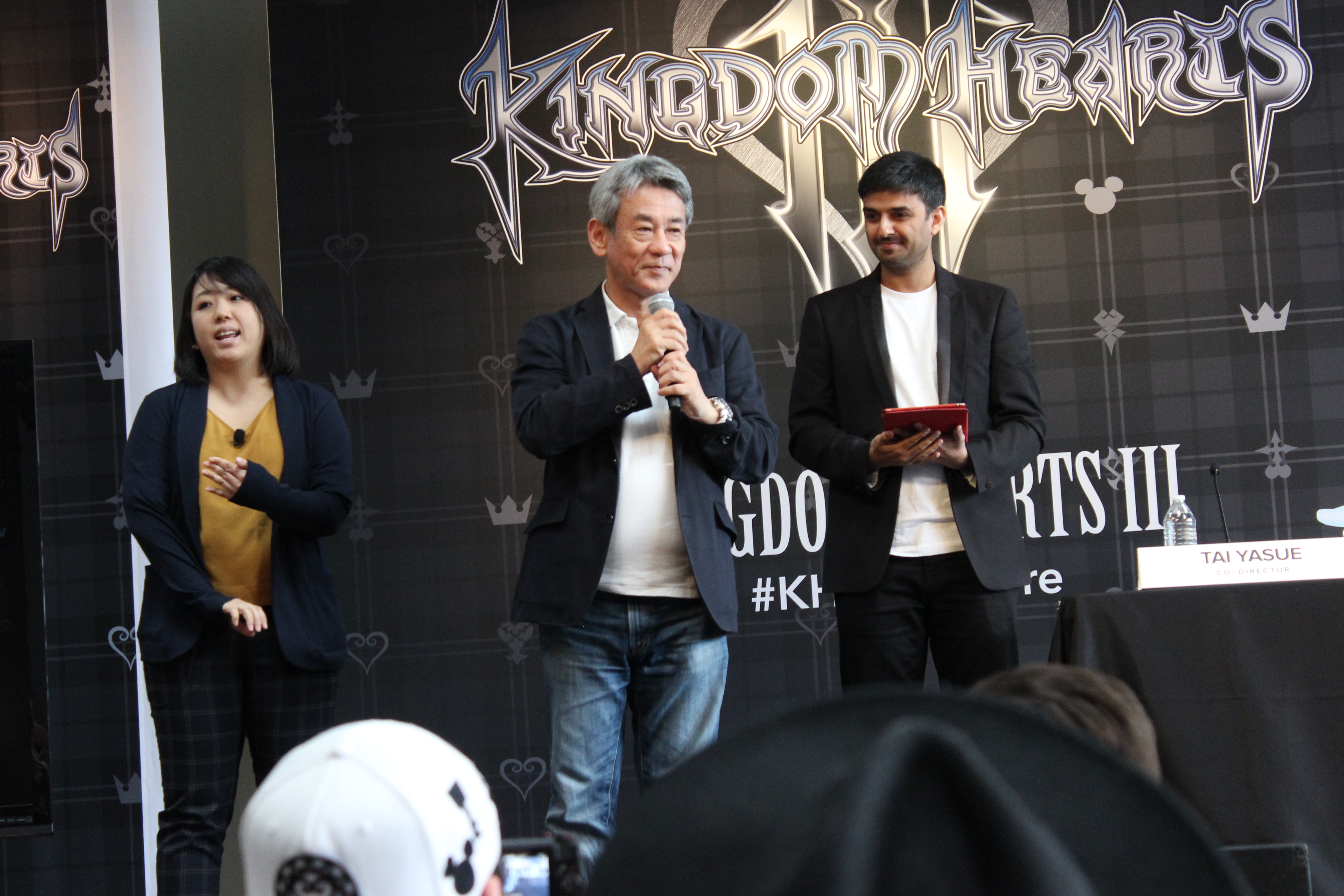 Series Executive Producer Mr. Shinji Hashimoto kicked things off by welcoming us and thanking everyone for arriving!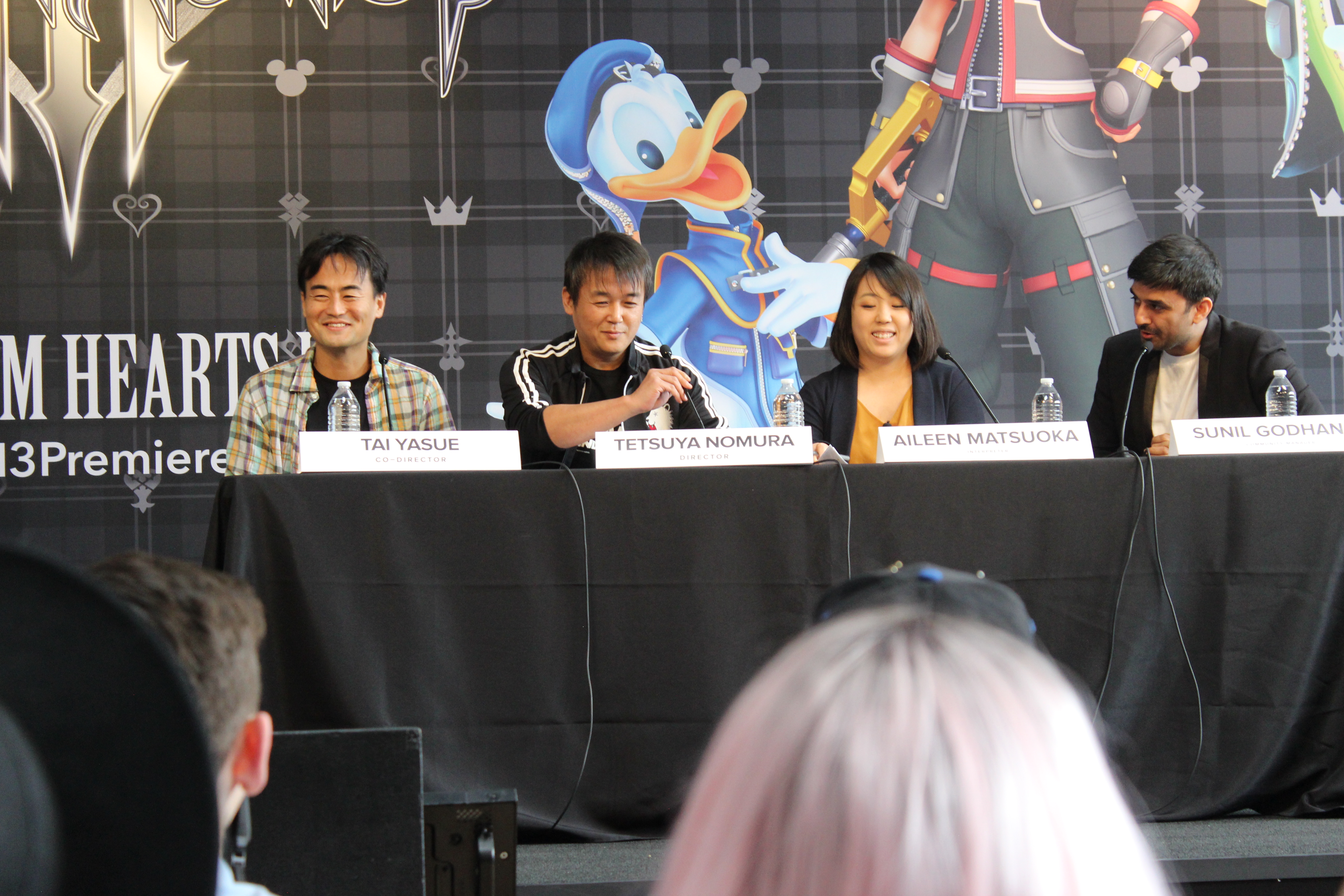 Next, the panel with Kingdom Hearts series Franchise Director Mr. Tetsuya Nomura and Kingdom Hearts 3 Co-Director Mr. Tai Yasue truly began. Here are some tidbits from that panel!
The theme of the Kingdom Hearts series as a whole is heart. For Kingdom Hearts 3, the theme is resolution. Nomura believes you'll see all the problems set up in the series so far come to a resolution.
When asked if Kingdom Hearts III would be darker than previous entries, Nomura had this to say:
Nomura: The series as a whole has had a serious storyline so it'd make sense if you think Kingdom Hearts 3 will have a serious storyline as well. But because it is a resolution of things that have been happening until now, I think there will be many surprises that you may not expect to happen.
If you have been playing Kingdom Hearts Union X[Cross] on your mobile platform, you would know that we have foreshadowed that light will be defeated by darkness. So you may see what happens with that being foreshadowed. I actually do believe it may have some kind of a "difficult ending" that you may find a bit difficult to grasp.
It depends on whether or not everyone can go against all odds and overcome what's being foretold.
When asked about the inclusion of Pixar, Nomura stated that having pixar worlds in KHIII was a necessity to him. Yasue said the worlds were developed to both be large enough to hold the fun things they wanted to do but to also be totally unique.
Next, they showed the development BTS video from D23 Japan. Yasue walked us through how a cutscene is created and showed off unfinished areas in the Monsters Inc world and the Tangled world. Rapunzel's hair was incredibly difficult, but thanks to Disney and a special middlewear made just for Rapunzel's hair physics, it's working out beautifully.
They directors closed off the panel stating that there were plenty of surprises to find in the demo, even if we'd been following the coverage from that morning.
Yasue said that he loves watching the American youtubers because they're so expressive and he was happy they were there. Nomura said that they're going to be revealing so much information next month that it'll be hard for daily vloggers to keep up.