Details

Published on January 6, 2016 @ 08:52 pm
Written by Sophearum
Shinji Hashimoto and Tetsuya Nomura share a few words about the future of 2016 and beyond in the latest issue of Famitsu!
Both Hashimoto and Nomura have hinted that the year 2016 will bring more surprises for audiences around the world. Hashimoto in particular speaks about a new project he wants to announce later in the year that is regarded as "challenging" in the global sense. Nomura, on the other hand, discusses that more information on his upcoming titles will be carried out soon. Check out the translation below!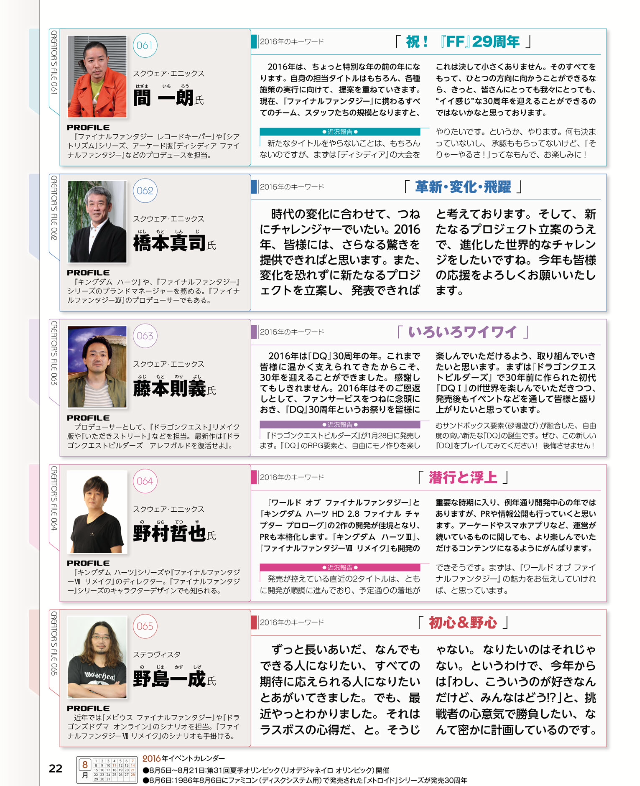 SQUARE ENIX
Shinji Hashimoto

PROFILE
Serves as the Brand Manager for the KINGDOM HEARTS and FINAL FANTASY series. He is also the Producer for FINAL FANTASY XV.

Keywords for 2016
Innovation • Change • Rapid Progress

To suit the changes of the times, I wanted to challenge myself. In 2016, I think I can give a further surprise for everyone. In addition, without any fear of change, we are planning a new project and believe an announcement is possible. Also, upon the planning of the new project, we believe it has evolved into a global challenge. Thank you for the support of everyone this year.
SQUARE ENIX
Tetsuya Nomura

PROFILE
Director of the KINGDOM HEARTS series and FINAL FANTASY VII Remake. He is known for his character designs in the FINAL FANTASY series.

Going Underground and Surfacing
World of FINAL FANTASY and KINGDOM HEARTS HD 2.8 Final Chapter Prologue are two highlighted works in development. KINGDOM HEARTS III and FINAL FANTASY VII Remake have entered a significant time of development, although like every year when it is in the middle of development, PR will release information to the public. Such as arcades and in regards to copyrights, and with respect to what management is continuing to do, we'll try to make our content more fun.

Recent Report
In regards to the release of the two latest titles, they are progressing development well and is likely to be released as scheduled. First of all, I'd say that World of FINAL FANTASY is charming.
Follow Kingdom Hearts Insider on Facebook, Twitter, and Tumblr for the latest updates on Kingdom Hearts 3 and all things Kingdom Hearts!